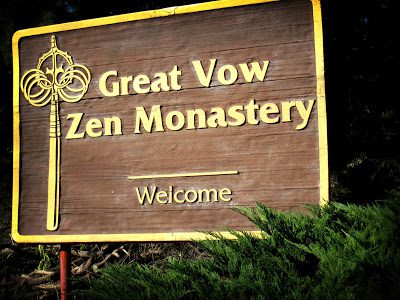 While compared to two weeks ago, I feel great, I continue to have enough discomfort in my lungs that I am careful and do miss some of the program at the retreat, driving up the hill and arriving just before nine a.m. local time, and returning to the motel right after dinner, about seven thirty in the evening. This includes missing the morning sit and breakfast, as well as the evening programs. In the morning, while I awake about the same time as they do up on the mountain, I'm moving at a slower pace. I'm making do with a brief sit in a chair, checking on correspondence (that means emails these days), including what's happening back at the church in Providence, putting together these notes about the retreat, eating a banana and some yogurt before heading up the mountain for the beginning of the formal program.
Sadly, for me, I've been told one of the most moving aspects of this conference is that morning zazen. Several have told me the sense of sitting with more than a hundred priests, most with many decades of practice behind them is among the most stirring and powerful moments in this gathering.
Thursday the program began with a rehearsal for the Dharma Heritage ceremony. It is, I feel, a very important part of the development of an independent Soto school in North America. The Japanese ordination model is complex, in addition to the central aspect of that personal relationship between student and teacher, which culminates in a recognition of succession through Dharma transmission, there is a vast ranking system reflecting the needs of an old and large religious institution. The first critical step after that personal acknowledgment in Japan is Zuisse, the ceremonial assumption of leadership of the two great historical training monasteries, Sojiji and Eiheiji, what is sometimes, with affection, called a ceremony of "abbot for a day," if actually only for a few minutes.
The institutional structures for our emergent North American Soto are pretty thin on the ground. But, the most important, as I see it, of these right now is Dharma Heritage. This ceremony held at the official, now biennial gathering of the Soto Zen Buddhist Association was inaugurated in 2004. I had the singular honor of being among the first group of Zen clergy who participated as candidates in a simple but moving ritual of reception conducted at that time by all the priests present who had gone through Zuisse. I forget the exact number but something in the neighborhood of twenty, as best I recall. I cherish this link between our Dharma Heritage ceremony and Japan's Zuisse.
As I mentioned, Thursday kicked off with the rehearsal. Trying to get the about ninety senior priests, both candidates and those who've previously undergone the ceremony to do a walk through including several complex rounds of circumambulation, an ancient favorite ritual action of all Buddhists, looked to be a daunting affair. Having had to walk very large wedding parties through a much simpler ceremony, I was past impressed at how Ejo McMullen, from the Eugene Zen center, Buddha Eye Temple, was able to get that many cats to go in the right direction. I have no doubt Friday's ceremony will go off without a hitch.
From there we returned to our discussion of the draft SZBA standards, a usually civil, although marked with some tensions, including those in my heart. While there was one attempt from a frustrated priest that it has taken about twenty years to get here and wanted a formal adoption of the draft document then and there, we moved in a roughly orderly manner toward the creation of a working group that will be assigned to create a committee who will be charged with designing an open hearted path to membership. The issue of final adoption of a standards document, which I feel is going to be largely the draft document, was also discussed, and a similar path including some continuing review around the hard sticking points, which from where I sit, turn on ango, the historic ninety day intensive retreat, requirements.
(At dinner that evening, when some of us were discussing my "live" blogging of this, I was told this was becoming the "official" record of the event. I replied that I will have to rewrite this with scenes having me saving the day at the last minute. I pictured how I stood up in this meeting and through my tight argument, and, yes, winning rhetoric, solved the remaining difficulties. Sadly, in fact, I sat in the back row on this one, agreeing and disagreeing with what the other speakers had to say. Speaking up only once, when my colleague wanted to push through to a final decision on the spot. I don't think I was particularly eloquent, nor particularly persuasive, although the issue was not ended there as I hoped would be the case…)
Then lunch. And with that, more visiting with old friends and most importantly, with some new friends, as well. This time I got to know the scholar priest Wakoh Shanon Hickey a bit better, which as we've had correspondence for years, made it nice to have a bit more of that personal connection. I don't think I've mentioned this either, but my goodness, the food prepared for the conference at the monastery has been excellent. I'm not sure, I've heard several numbers, but they're feeding well more than a hundred souls three times a day. And its all been delicious!
After that we had a period featuring ten minute talks on the subject of Soto Zen in the years going ahead. This was put together by our SZBA Coordinator, Domyo Burk. She had recruited, cajoled, and otherwise got five of us to do this. I led off, discovering that my much vaunted (in my mind) since of timing was way off, and at the two minute bell, discovered I had to walk away from my text. I have no idea what I said there, but I will be posting the talk I meant to give later this morning. This was followed by presentations by Ryushin Creedon, Taiun Elliston, Juntoku McCoy, and Tonen O'Connor. All were interesting, and with one exception, all kept at or, even, under time.
Following a brief break with more visiting, most of us joined in a rather moving ceremony at the monastery's shrine of vows, where we were invited to ritually state vows of aspiration for our own work and lives. It was led by the monastery's co-abbot Hogen Bays. I'm not a big ritual person, as has been noted, but once again at this conference, I found myself quite moved.
Dinner. More visiting. Lovely, lovely.
Then, as the evening program began, I climbed into my rental car and drove down the mountain…