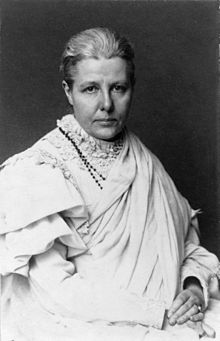 Annie Besant was born on this day in 1847.
When George Bernard Shaw recruited Annie Besant to the Fabian Society in 1885 he called it a major victory for the cause, as he declared she was "the greatest orator in England." She was a social activist and journalist. And one of the most famous women in England.
Everything changed when she was engaged to interview and expose the spiritualist Helena Blavatsky who had announced she was channelling ascended masters. Like Colonel Henry Steel Olcott, famous for exposing fraud and waste during the Civil War, and then engaged by a newspaper to expose Madam Blavatsky, only to become a life long disciple; well, pretty much the same thing happened to Annie Besant.
She became a close associate of Blavatsky for the rest of her teacher's life, helping to establish the Theosophical Society as a significant spiritual force.
Theosophy is a most unlikely mishmash of spiritualities. What is even more amazing is in its half life how wide its influence has been in matters both spiritual and social.
When Madam Blavatsky died, Annie ended up leading the largest faction of the Society.
Besant ended up spending much of the rest of her life in India, where it turned out she'd not lost her taste for politics. She was one of the founders of the Home Rule League and the India National Congress, which she was elected president. While dismayed when Nehru and Gandhi and other Inidans took over the party as had to be, it is worth noting the party she was instrumental in establishing would end up being the leading force in Indian independence.
An amazing figure.
Absolutely…