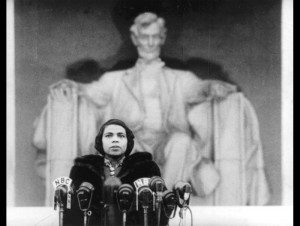 Symbols count. Don't ever let anyone tell you they don't. They are not the end of the deal, of course, but they can be enormously important.
Case in point. The Daughters of the American Revolution refused to let celebrated contralto Marian Anderson perform in Constitution Hall because she was African American. The uproar that followed has echoed to this day. First Lady Eleanor Roosevelt resigned her membership in the DAR, and with the aid of her husband, was able to arrange for Ms Anderson to sing on the steps of the Lincoln Memorial on this day, which was Easter Sunday, in 1939. It is estimated she performed before a live audience of seventy-five thousand, and on radio before millions. The story was repeated in newspapers and in newsreels.
One moment. A symbol for several things.
She was one of those perfect people at the perfect moment. Some years after this public shaming, a shame that so many quietly took in, the leadership of the DAR reversed its racist position, and Ms Anderson accepted their invitation in 1943 to sing at Constitution Hall as an American Red Cross war relief benefit.
And another small gesture, many years later when Ms Anderson launched her farewell concert tour, she chose to perform at Constitution Hall to begin the tour.
Even revolutions take place through small steps.