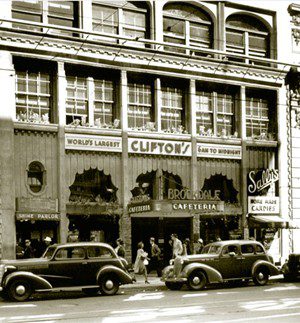 Last night Jan & I were watching the Newshour when they played a clip on Route 66. This included a passing reference to the famous Green Book, the segregation era guide for African Americans. Then within that passing moment the story also mentioned Clifton's as a Los Angeles restaurant that was listed in the book.
As I am interested in stories of Southern California, and stories of Los Angeles in particular, and, okay, anything about food, I proceeded to do a little googling. Turns out Clifton was remarkable in several ways.
It was established in 1931 by Clifford Clinton. Clinton was born in China to a missionary family. He was marked from his childhood by the horrors of hunger. His family returned to the states and his father become a restauranteur, Clinton followed his father into the business in San Francisco, and eventually succeeded him. However, being disgusted with the business practices of his partners, he walked away from the business and moved to Los Angeles. There he started a restaurant named Clifton's for a combination of his first and last names.
The plan was to operate the business by the Golden Rule. Also, it was the middle of the Great Depression. These two things made Clifton's something rare.
In a 1952 pamphlet he wrote, "Clifton's is an Institution planned to provide simple, wholesome food, pleasing atmosphere and worthy community service, at lowest possible prices." On the checks given to customers he had printed "Regardless of the amount of this check our cashier will cheerfully accept whatever you wish to pay – or you may dine free." The restaurant also consciously treated employees with dignity and a fair wage, creating a "bill of rights," eight hour work days, paid vacation, insurance, sick days, and a living wage.
And, of course, of course, the restaurants were fully integrated.
In an era before any kind of government relief, his restaurants are credited with feeding two million people. The business careened dangerously close to bankruptcy several times. But he persevered, and eventually prospered. At one point they had eight restaurants.
It also has a place in Los Angeles cultural history. According to the Wikipedia article on the restaurant, "Science fiction author Ray Bradbury ate at Clifton's as a struggling writer, often taking advantage of the policy that anyone who couldn't afford to pay didn't have to, and in the 1930s attended meetings of the Los Angeles Science Fiction Society, which met for years at the restaurant. Author/agent/fan/collector Forrest J Ackerman later wrote, '…we moved to Clifton's Cafeteria, a feature of which was their free limeade and lime juice. Some of the members who didn't have more than a nickel or dime to spend guzzled a lot of that free juice.' Bradbury celebrated his 89th birthday at the downtown eatery in 2009."
The article continues, "Charles Bukowski mentions Clifton's Cafeteria in his novel Ham on Rye: 'Clifton's Cafeteria was nice. If you didn't have much money, they let you pay what you could. And if you didn't have any money, you didn't have to pay. […] It was owned by some very nice rich old man, a very unusual person.'"
Elsewhere the Wikipedia article quotes George Pendel's novel Strange Angel, which describes the restaurant as "'a bizarre experience,' and a 'kitsch cafeteria provided millions of low-priced meals to the out-of-work and destitute during the darkest days of the depression,' and that it provided a 'surreal sanctuary from a broken world.'"
After Clinton died the fortunes of the chain declined, and today only a single restaurant, the downtown location survives. Purchased in 2010, a renovated facility attempts to capture some sense of an earlier era. It has gotten, if not overwhelming, generally positive reviews.
Zagat describes this new incarnation. "A reboot of the historic Downtown cafeteria pays homage to the original with rustic woodland decor, complete with taxidermy and a three-story redwood tree replica shooting up through the middle. The cafeteria offers modern American classics like house-smoked turkey and fixings, Jell-O parfaits and pizzas, with several cocktail bars open on each floor."
I admit to mixed feelings. And. Or maybe, still. While no longer run by the Golden Rule, at least it is possible to visit what I think of as a shrine to human decency in some very hard times.
And for that I'm glad.