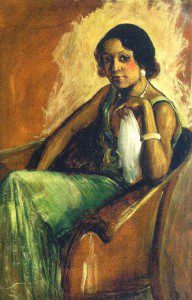 John Wesley Hardrick was born on this day in 1891.
As early as eight he showed a natural talent for art, and by the time he was in High School he was winning awards for his work. He began formal study at the Herron School of Art studying with William Forsyth & Otto Stark. He worked in a stove foundry to support himself. Although people began to notice his work, continuing to be shown and winning various awards.
The African American History site notes "Beginning in 1928 Hardrick exhibited his work with the Harmon Foundation for five years, winning recognition for his realistic and expressive portraits of African Americans. He received a Bronze Award from the foundation in 1927 for his work, Portrait of a Young Girl and in 1933 he received a blue ribbon at the Indiana State Fair for his portrait Mammy.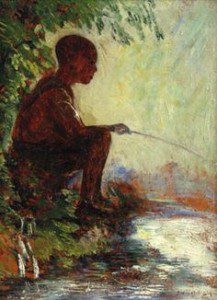 Supplemental income during these years came from managing a trucking company and working for the foundation. Hardrick painted mainly portraits, figure composition, and landscapes. He also painted murals at several high schools and churches in and around his home town. He was also displayed at the Smithsonian in 1929, and at the American Negro Exposition in Chicago in 1940."
Making a living was always difficult. During the depression he won a commission from the WPA. Not enough to support his family he took to driving a taxi, often selling paintings from the trunk of the cab. He painted until Parkinson's forced him to stop a few years before his death in 1968.