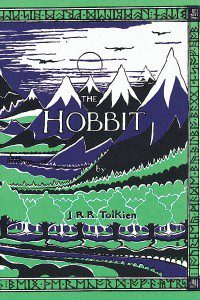 According to the good folk at Wikipedia, "In a 1955 letter to W. H. Auden, Tolkien recollects that he began work on The Hobbit one day early in the 1930s, when he was marking School Certificate papers. He found a blank page. Suddenly inspired, he wrote the words, 'In a hole in the ground there lived a hobbit.' By late 1932 he had finished the story and then lent the manuscript to several friends, including C. S. Lewis and a student of Tolkien's named Elaine Griffiths. In 1936, when Griffiths was visited in Oxford by Susan Dagnall, a staff member of the publisher George Allen & Unwin, she is reported to have either lent Dagnall the book or suggested she borrow it from Tolkien. In any event, Dagnall was impressed by it, and showed the book to Stanley Unwin, who then asked his 10-year-old son Rayner to review it. Rayner's favourable comments settled Allen & Unwin's decision to publish Tolkien's book."
And so it was that on this day in 1937, J. R. R. Tolkien's novel The Hobbit was published to critical acclaim. It was a Carnegie Medal nominee (although The Family from One End Street by Eve Garnett won).
It has never been out of print since that time.
Sequels would follow.