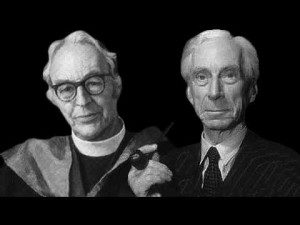 In 1948, incidentally the year of my birth, BBC radio hosted a debate on whether God exists between Frederick Copleston and Bertrand Russell.
I've long been a fan of both of these old codgers. I was a High School dropout and an autodidact, and had by good fortune stumbled upon both these worthies at an important point in my life. Russell's An Outline of Philosophy was a very important book early on for me. Basically my introduction to the subject. And Copleston's History of Philosophy which followed for me, was if possible, even more important.
I acknowledge while this debate goes in directions I don't in fact find helpful, particularly as they agreed too early on on a working definition of God that I don't find particularly compelling; the whole thing conveys a spirit of engaged dialogue that too often is lacking in much of the current conversation on the subject.
If you haven't ever heard it, I suggest its worth a listen in.
And, if you rather, here's a transcript.