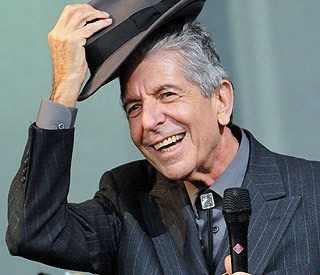 Leonard Cohen, poet, songwriter, showman, and Zen priest, died yesterday. He was eighty-two.
My friend and Zen teaching colleague, Rafe Martin posted one of his poems in honor of the man, the poet, the Zen teacher. I think it captures something important for us…
First of All
First of all nothing will happen
and a little later
nothing will happen again
A family might pass by in the night
speaking of the children's bedtime
That will be the signal
for you to light a cigarette
Then comes a delicate moment
when the backwoods men
gather around the table
to discuss your way of life
Dismiss them with a glass of
cherry juice
Your way of life has been over
for many years
The moonlit mountains
surround your heart
and the Anointed One
with his bag and stick
can be picked out on a path
He is probably thinking of what
you said
in the schoolyard 100 years ago
This is a dangerous moment
that can plunge you into silence
for a million years
Fortunately the sound of clarinets
from a wandering klezmer
ensemble
drifts into the kitchen
Allow it to distract you
from your cheerless meditation
The refrigerator will go into
second gear
and the cat will climb onto the
windowsill
for no reason at all
you will begin to cry
Then your tears will dry up
and you will ache for a companion
I will be that companion
At first nothing will happen to us
and later on
it will happen to us again
Leonard Cohen, Book of Longing
A bunch of years ago I was interviewed for a DVD on Leonard Cohen, "Leonard Cohen's Lonesome Heroes." It was, as one reviewer opined, "an academically minded documentary that seeks to root out the main inspirations the famed troubadour brought together to make his signature style." They used me to talk about Zen in a general historical overview. Another reviewer said rather generously "the too brief inclusion of James Ishmael Ford provides a rather stunningly humane and insightful analysis.." of the Zen perspective as it contributes to a world spirituality. Someone else discussed his actual Zen experiences. The DVD received mild praise at the time, and I think it is still possible to purchase a copy.
Today I'm glad I was able to have some small part in a small project to celebrate this significant person – for me one of the first truly great Western Zen poets. For me even more important than Gary Snyder, who was very important to me.
And now, like all of us will at some point do, Leonard Cohen has died.
Over the years he has also provided grist for my Monkey Mind mill. Among other postings, I was able to link to a video of him narrating the Tibetan Book of the Dead, a thought about the inspiration of his one time lover, Marianne Ihlen, thoughts on his Zen connections, a specific observation about Zen meditation, a lovely essay by a mutual admirer of Mr Cohen (available nowhere else), and a meditation on his Hallelujah.
So far 2016 has been a suck of a year. His death has not made it any more pleasant.
But, if there is any silver lining in this, it is how this moment might pull us back to reflect a little on some of his songs, and to where he points us…