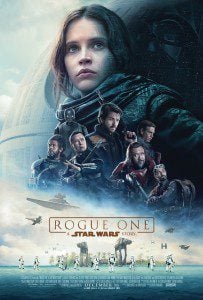 Yesterday Jan & I went to see Rogue One.
Today I want to write about it, but find myself constrained by the fact that talking in any detail would be to spill spoilers all over the ground.
One negative review I read cites this difficulty as an example of the franchise becoming oppressive wanting us to "play" when in fact it is actually the very empire that universe is supposed to be resisting. And, I guess, if you're not a fan, or, more, if you find Star Wars all too much over the top, there's little doubt you will not be particularly enthusiastic. Just more of the same.
Me, let me confess up front. I'm in fact not a gigantic fan. I was captivated by the original trilogy when it came out. Loved all three of 'em. However, since then I've perhaps seen these movies all one more time in their entirety. I've felt no need for multiple replays. Then Jan and I saw the first of the prequel trilogy, found it past silly and didn't bother to see the next two. Then we saw the first of the sequel trilogy, and enjoyed it throughly.
So, while having some standards if not tons, we were excited by the buzz around Rogue One, and decided to see it. We were not disappointed. One commentator said, in fact, this was the prequel that should have been made. I agree.
As I noted up front there's a problem talking about the story at this moment. Only a fraction of those who will see the movie have yet. The plot derives from references in the first movie and actually addresses what I long considered a major plot hole in the original trilogy. I figure there are enough of those that this isn't too much of a hint. To go into much more detail is to give too much away.
Jan wrote on her Facebook page how we "enjoyed it immensely. The Imperial Walkers are back! The music is as bombastic as ever! It's remarkable – with the residents of the entire universe to draw upon, the leaders of both the Empire and the Rebel Alliance are still mainly earth hominids. Mainly white and male. Also mainly British."
I can, and probably need to add this. This is a darker variation on the story, just a little more "real" than previous films. Emphasis on just a little. And, I have to add, too much of the special effects fighting scenes for my tastebuds. It's sort of like if you have the technology, you have to use it. Still, I think this movie hints at possibilities in the franchise, if it also carries with it some of the dangers inherent in creating stories within the Star Wars universe. Apparently this is something of a consensus view. At Rotten Tomatoes, fully eighty-four percent of the two hundred, eighty-nine professional reviewers gave the film a thumb's up, and ninety percent of the near fifty-two thousand viewers who chose to comment were favorable.
Felicity Jones takes the lead as Jyn Enso, with solid support from Diego Luna as Cassian Andor. Alan Tudyk gives voice to the requisite robot. The script is by Chris Weitz and Tony Gilroy, and the movie is directed by Gareth Edwards. It runs one hundred, thirty-three minutes.
Bottom line, unless you're completely jaded by the very idea of the Star Wars franchise, you're going to like this movie. We're not talking world shaking "film" here. We are talking Star Wars, space opera. But, it's faithful to the series, although, and I have to say this again, it is darker. And maybe there's a bit too much of blowing things up. But for a Hollywood entertainment, its a fun if slightly too long two hours, plus. No regrets. I think you will be happy to see it, as well. A recommend.