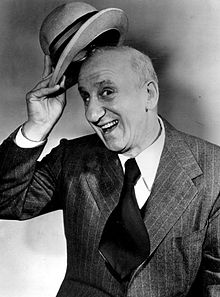 A month or so back Jan & I were walking through a grocery store when the muzak (or, the moral equivalent) started up Jimmy Durante's novelty song Rudolf the Red Nose Raindeer. At the time I marveled that a singer who has been dead now some thirty-six years was accompanying all of us shopping that day. A bit of the miracle of voice recording. And the various technologies that have followed, all of which he was in the pioneering stages for.
Of course there has to be something there to bring on this digital semi-immortality. And the old Schnozzola, as he was known, certainly had that something.
James Francis Durante was born on this day in 1893, on the Lower East Side in Manhattan. Jimmy, as he was called for his whole life, was the youngest of four children. Their parents were immigrants from Italy, his father a barber. He dropped out of school at sixteen to become professional piano player, first known as "Ragtime Jimmy." He would sprinkle the act with jokes. Interestingly he appears to be the first white band leader to employ black musicians as featured players.
Soon he was a vaudeville star. Jimmy's first hit was another novelty tune, Inka Dinka Doo. It would become a signature song for him. He became a broadway star, and soon after broke into films. His first movie was a musical the Phantom President, which played in 1932, his last was It's a Mad, Mad, Mad, Mad World, some thirty-four years later.
Jimmy was wildly popular on radio, and, was one of the early television stars, beginning in 1950. And so he was a fixture of my childhood particularly appearing on evening variety shows, which were a fixture of the day.
It appears he genuinely enjoyed the necessary charitable work of a star in his time and was an active member of the Democratic Party and a major supporter of Franklin Roosevelt, writing a song in support of the New Deal, Give a Man a Job. (If you don't listen to either of the other two songs, do listen to this one. Kind of timely…) He would be a featured singer at John Kennedy's inauguration.
And, Jimmy continues to have a half life in the cartoons. Hence the Frosty the Snowman special and that Rudolf song.
Jimmy Durante died in January, 1980, in Santa Monica, California.
But, well, he continues…