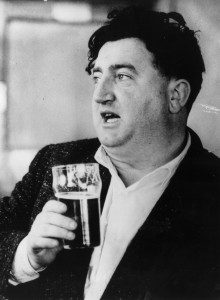 Brendan Behan, poet, short story writer, novelist and playwright in English and Irish, was born on this day in 1923.
He led a tumultuous life, born in Dublin, by the age of sixteen he joined the Irish Republican Army, and was involved in a plot to blow up the docks in Liverpool. He was arrested in possession of explosives and sentenced to three years. Later Behan returned to prison for attempting to assassinate two Garda Siochana detectives, this time sentenced to fourteen years. However he was released in a general amnesty in 1946, and ended his active revolutionary activities.
Behan turned to writing, which before he had been dabbling at. While in prison he learned fluent Irish Gaelic and wrote in both Irish and English. He soon became wildly successful. He also was a notorious drunkard, once describing himself as "a drinker with a writing problem."
Overtaken by diabetes and his out of control alcoholism, Behan collapsed in a Dublin bar in March, 1964, and was transported to the Meath Hospital. Brendan Behan's last words are reported to have been to a nun caring for him. "Bless you sister. May all your sons be bishops."
He was forty-one.
A drunk. A terrorist. Quick with the quip. And, oh my, the man could write.
As a human being a mess. In that sense kind of like all of us. Dark corners, maybe even more than average, but not unlike the rest of us. And, shining areas, again, like all of us, if maybe a little more bright than for most of us.
All of it must be taken together. Like for all of us…
He's still remembered. And likely will be for some time to come…