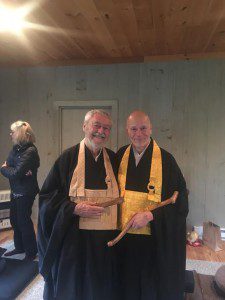 On Saturday the 13th of May, 2017, I had the great honor and enormous pleasure of publicly acknowledging my old friend the Zen teacher Douglas Phillips through the ancient and constantly renewed ceremony of Inka Shomei, "evidence of the mark."
In addition to his work as a dharma teacher, Doug holds a PhD in psychology and maintains a psychotherapy practice in Newton, Massachusetts.
Roshi Phillips has been practicing in the Zen and Vipassana traditions for more than thirty years. He began his formal training under the tutelage of Roshi Maurine Stuart. Following her death he worked with Zen Master George Bowman. Then he delved into the fundamental matter with Larry Rosenberg, who gave him formal authorization as a teacher in the emerging Western Vipassana tradition. Doug has also continued to delve into the fundamental matter with the renowned Vimala Thakar.
We began working together in 2004. Doug proceeded rapidly through the Harada Yasutani koan curriculum. Completing formal koan introspection practice and already respected as a teacher, I gave him dharma transmission in 2014. The next year following those deep currents of the heart he ordained into the Soto Zen Buddhist priesthood.
So, this final acknowledgment is my declaring that I've moved from confidence in both his insight and ability to teach, to having witnessed the flowering of his presentation of the dharma in its Zen expression. In the Boundless Way tradition within which I practice, this final acknowledgment comes with the title roshi, old teacher.
And with that I present Roshi Douglas Keido San'un Phillips.
Doug leads the Empty Sky Sangha together with Dharma Holder Mary Gates in West Cornwall, Connecticut. He also leads classes and meditation retreats in Massachusetts. I hope you run into him sometime.