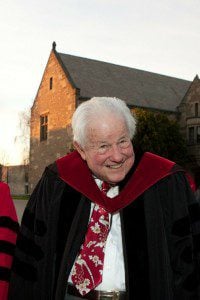 I've just received a communication from the Pacific School of Religion announcing the death of Professor Emeritus A. Durwood Foster.
Writing for the school, Dr David Vasquez-Levy briefly outlines Professor Foster's teaching career. He was "An ordained minister in the United Methodist Church, Dr. Foster was a graduate of Emory University and Union Theological Seminary. He also served as a Fulbright Scholar at Heidelberg, and was a visiting scholar at Gottingen, Columbia, Basel, Berlin, and Oxford. His teaching career sent him around the world, from Durham, North Carolina to Bangalore, India to New York City. Dr. Foster authored The God Who Loves, co-edited Hermeneutics and Unification Theology and Original Sin and Society, and contributed to numerous journals and books." And, of course, he taught for decades at the Pacific School of Religion and the Graduate Theological Union.
There were a handful of professors when I was in seminary whom I felt touched my heart in particularly significant ways. They included Masao Abe, William Countryman, Karen Lebacqz, Joanna Macy, Louis Weil, and probably most importantly A. Durwood Foster.
Durwood was critically important in several ways. He was my assigned mentor, and I took to him immediately. He was inviting, liked my Buddhism, and tantalized my latent interest in my natal Christianity with his progressive and transformative faith. He would be my lead advisor for my MA thesis, and, critically he is probably the most important driving figure in bringing Masao Abe to the Pacific School of Religion, and who was in residence for two of my three years at the school.
As to that Masters thesis. Originally Durwood agreed to be my lead in an investigation of Zen Buddhism as it was taking root in North America. He supervised my creation of a course of studies combining various courses available at the Graduate Theological Union as well as constructing several programs of guided self-study.
The plan was that when I graduated with my MDiv in 1991 I would in my leisure hours in my first settlement in the exurbs of Milwaukee, write the thesis. However, as I was preparing for that momentous transition he called me into his office. There Durwood first informed me he was planning on retiring at the end of the upcoming year. And, therefore there would not be time for me to pursue that project on that timeline.
He then let me know that he recalled a bloated paper I'd given him for a past class. "It has some original research in it," He offered. And said, expand it, and you'll have a thesis. He advised me to put together a new committee. He would remain my lead, but I needed people knowledgeable in that area. I recruited Louis Weil and Guy Lytle both from the Church Divinity School of the Pacific, another school at the GTU.
And so, thanks to Durwood, I ended up writing "Forever a Priest: Episcopi Vagantes and the Myth of Catholic Ministry." And, well, I have my MA. Also, the original preparation, coursework and reading would become the foundation for my book Zen Master Who? A Guide to the People and Stories of Zen. So, win win…
Durwood was living in Ashland, Oregon, at the time of his death. A. Durwood Foster, minister, scholar, and ecumenist was 91 years old. He is survived by his children Kathy, in Berkeley and Robin in Kansas City, MO, as well as a host of his former students. Including me.
Rest in Peace, dear teacher.