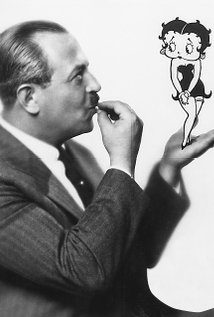 Max Fleischer was born on this day, the 19th of July, in Krakow, in 1883. He would become a cartoonist, animator, film director, actually also an inventor, and a producer.
Fleischer began his career at the Brooklyn Daily Eagle, moving quickly from errand boy to photographer, and with a few more steps became an illustrator. Over the next few years he would work as an illustrator for various companies, including Popular Science.
Starting in 1914 Fleischer together with his brothers Joe and Dave began to develop a device to allow the new medium of commercial animation to move from jerky and difficult to follow to smooth and professional. They patented their machine as the Rotoscope in 1917.
After some false starts and a stint during the First World War producing army training films, Fleischer opened the Inkwell Studios. The shorts they produced famously incorporated live action and animation. The most famous of these was Ko-Ko the Clown.
In 1924 Fleischer partnered with three other entrepreneurs to create Red Seal Pictures. While with Red Seal he developed the "Follow the Bouncing Ball" feature which would become highly popular.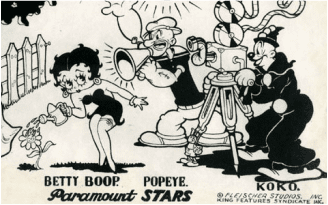 Finally he started his own company, Fleischer Studios. And with that came his most famous creation, Betty Boop. And then a few years later he licensed Popeye the Sailor. Popeye was actually introduced in a Betty Boop vehicle.
The article about him at Wikipedia says:
Fleischer's cartoons were very different from the Disney product, both in concept and in execution. They were rough, rather than refined. The Fleischer approach was sophisticated, focused on surrealism, dark humor, adult psychological elements, and sexuality. The Fleischer environments were grittier and urbane, often set in squalid surroundings—a reflection of the Depression as well as German Expressionism which Max embraced.
Construction processes and machinery were found in some stories, mirroring Max's view of mechanics as the art form of the 20th Century. But most of all, Fleischer saw animation as "the cartoonist's cartoon" and in his earlier works avoided the literal approach that Disney was taking. As Fleischer stated, "if it can be done in real life, it isn't animation."
Max Fleischer was called the "dean of animated cartoonists." And justly so…