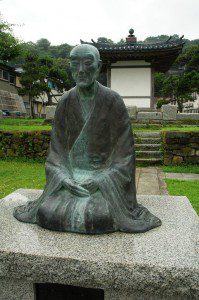 After our Boundless Way Zen West three day zazenkai in Seattle, while on my flight home I was reading a small collection of Sam Hamill's poetry and translations. I was especially taken with three of his renditions of the Soto Zen priest Ryokan's poetry.
Alone in this strange machine hurtling through the air down the coast of the North American continent I found them catching my heart, capturing in some ways in my imagination my own life.
It occurred to me you might like them, as well.
1
Illusion and enlightenment are mutually entangled:
means and end, cause and effect are one.
Dawn to dusk, I study wordless texts in silence;
nights are lost to thoughtless meditation.
Warblers sing in the willows,
dogs bark in the moonlit village.
All emotions rise in a whirl.
I leave this old heart to the world.
2
The winds have died, but flowers go on falling;
birds call, but silence penetrates each song.
The Mystery! Unknowable, unlearnable.
The virtue of Kannon.
3
As a boy, I studied literature
but failed to become a scholar.
I sat for years in zazen,
but failed my Dharma Master.
Now I inhabit a hut
inside a Shinto shrine:
half common custodian,
half prophet of the Buddha
Taigu Ryokan was born Eizo Yamamoto in 1758. In his youth he became a Soto Zen monk, eventually becoming the disciple of the master Kokusen, studying with him at Entsuji in what is now the Okayama Prefecture. He received his master's certification, but left the monastery during the next abbot's tenure. It is speculated that he was unhappy with the "Back to Dogen" reforms of that era, which led to the suppression of koan introspection within the Soto school. Whatever the reason, or no doubt more correctly, reasons, Ryokan began to wander. He never affiliated with another monastery or temple. Ryokan mostly lived as a hermit, although toward the end he had a job as caretaker of a Shinto shrine.
Sam Hamill is an American poet. Abandoned in his infancy, raised in orphanages and foster care before being adopted into a farming family. His youth was marked by theft and jails, and a stint in the Marines. He began his formal education at the Los Angeles City College, and eventually graduated from the University of California at Santa Barbara. He has translated poetry in classical Chinese, Japanese, Latin, and Estonian. His own poetry has been translated into a dozen languages. He is the co-founder of Copper Canyon Press. Sam Hamill now lives in Port Townsend, Washington.
And as a special bonus, one more poem. Not sure of the translator…