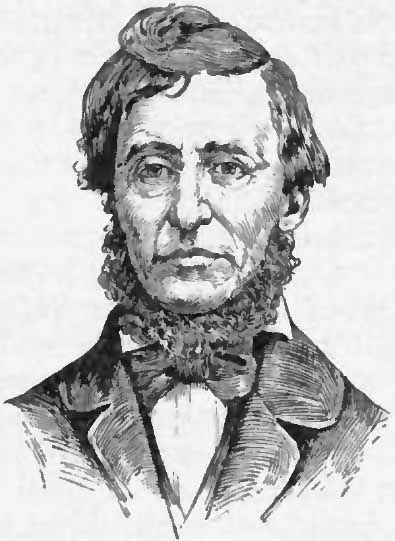 David Henry Thoreau was born in Concord, Massachusetts, on this day, the 12th of July, 1817.We know him as Henry David Thoreau.
His father was a pencil maker. His maternal grandfather, Asa Dunbar, is generally credited for instigating the first student protest recorded in American history, something called the Butter Rebellion. So, while he did indeed follow the rhythms of his own distant drummer, he wasn't the first in his family to do so.
Henry was the third of four children. The family was comfortably middle class. And, so, of course, he went off to Harvard, graduating in 1837. Three years after graduating he declined to pay the five dollar fee to be awarded a masters degree, which was one of those things that came to anyone alive three years after graduating and, well, who paid the five dollars. I understand this being alive for three years from graduation but otherwise meaningless masters is still awarded at certain English colleges. Legend has turned that decline into a refusal to obtain his undergraduate degree. When one develops a reputation, people like to see it everywhere, it appears…
He taught briefly. He once applied to work at Perkins School for the Blind (my spouse at one time the research librarian at that school showed me his application), but he was not engaged. He and his brother John started their own progressive school, but it closed when his brother died. He would end up mostly working in the family pencil factory.
After college and his return to Concord, Henry fell in with the remarkable Ralph Waldo Emerson. Emerson would be his mentor, sometimes muse, and on occasion hectoring advisor for the whole of his life. With Emerson's introductions, he became an active member of the Transcendentalist circle. When Henry decided to build his cabin, it was on Emerson's property.
And of course there was that cabin. Sometime in March of 1845, his friend the poet Ellery Channing had famously advised him, "Go out upon that, build yourself a hut, & there begin the grand process of devouring yourself alive. I see no other alternative, no other hope for you." Few have given anyone better advice. And, in the rarest of confluences, Thoreau saw the wisdom in his friend's suggestion, and acted on it, building himself that hut.
As Thoreau wrote,
I went to the woods because I wished to live deliberately, to front only the essential facts of life, and see if I could not learn what it had to teach, and not, when I came to die, discover that I had not lived. I did not wish to live what was not life, living is so dear; nor did I wish to practise resignation, unless it was quite necessary. I wanted to live deep and suck out all the marrow of life, to live so sturdily and Spartan-like as to put to rout all that was not life, to cut a broad swath and shave close, to drive life into a corner, and reduce it to its lowest terms, and, if it proved to be mean, why then to get the whole and genuine meanness of it, and publish its meanness to the world; or if it were sublime, to know it by experience, and be able to give a true account of it in my next excursion.
While there are some who make light of the fact during his sojourn he was never far from home and frequently had dinner at his Mother's, and that he was by no means a perfectly realized being, shortcomings and prejudices are revealed in those pages, still, still there is in this book that those two years, two months and two days generated that is something compelling and powerful, an American Taoism, if you will.
After two years, two months, & two days he ended the project. His experiment in radical simplicity would eventually coalesce into that amazing, and these days probably more often celebrated than read, masterwork of an American spiritual quest, Walden:, or, Life in the Woods. It is sad the book seems a bit more honored than read these days. I believe most all of us could profit from giving it a read. Perhaps even a re-read.
Not that I'm immune to the idea of honoring. During my time living in New England, no year went by without my making a small personal pilgrimage to Walden's pond, circumambulating it and stopping to add a small pebble to the cairn near the site where his shack stood. Even now on my increasingly rare returns to New England, if at all possible I make that pilgrimage.
Among the fun facts about Thoreau: He reversed his first and middle names after college, but never bothered to have the ordering changed legally. You're probably mispronouncing his name. If you want to pronounce his name the way he did, here you go. When he was twenty-six he and a friend accidentally set a fire that ended up burning upwards to three hundred acres.