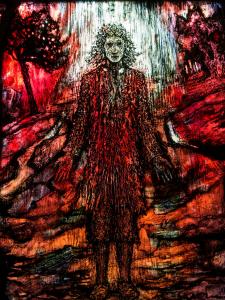 Thomas Traherne was born in 1636, or, perhaps it was 1637. His father was a shoemaker. Or, perhaps an innkeeper. We do know he attended Oxford taking his degree. He served in the ministry, but was not actually ordained until after the restoration and the return of King Charles II.
He labored in obscurity, publishing a single volume in his lifetime, and it wasn't until well after his death that the wealth of his poetry was revealed.
He is counted as one of the dozen metaphysical poets.
The Wikipedia article on him notes how "Traherne's works are inherently mystical in that they seek to understand and embrace the nature of God within his creation and within man's soul. Traherne seems to describe his own journey of faith in Centuries of Meditation, which was likely written when Traherne was at Credenhill—a work that is noted for its 'spiritual intensity,' and 'the wide scope of the writer's survey' which includes 'all heaven and earth he takes for the province of the pious soul.' Traherne's work is said to look 'upon the hidden things of the soul, and, in them, he sees the image of the glory and love of God' and 'the eternal theme of the goodness and the splendour of God.'"