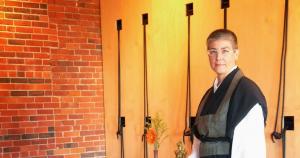 As the hour approached midnight on the evening of the 27th of September, 2017, I gave Denkai transmission to Tetsugan Lisa Zummach, Osho.
In the Japanese Soto Zen Buddhist inheritance Denkai, or precepts transmission, does two things.
First, for a priest, like Tetsugan, it completes the ordination process begun when one undergoes shukke tokudo, home leaving ordination, or, sometimes also called unsui tokudo, clouds and waters ordination.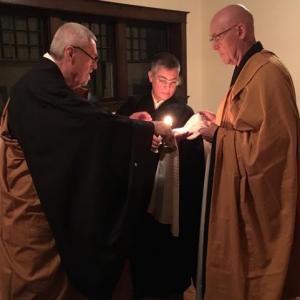 The second is that it is the first official step in formal authorization as a Zen teacher.
Of course this is a path that began a long time ago.
Born in Oceanside, California, the family moved to Minnesota when she was two. She completed her undergraduate degree at St Catherine's and her masters at the University of Minnesota. Tetsugan has been practicing within the Zen traditions since the mid 1990s. She was ordained unsui in the Katagiri lineage and has practiced intensely for many years in temple, center, and monastic settings. She also studied with Tomoe Katagiri and teaches the Nyoho-e style of Zen Buddhist robe sewing.
Tetsugan is a clinical social worker. She and her husband Dosho Port, Roshi, are the resident teachers at the Nebraska Zen Center in Omaha.
This weekend Tetsugan Osho, Dosho Osho, and I will be leading a sesshin at the center.
I am so glad to have had a part in the formation of this wise woman and leader of the next generation of our North American Zen community. May her work and life be a blessing for the many beings.