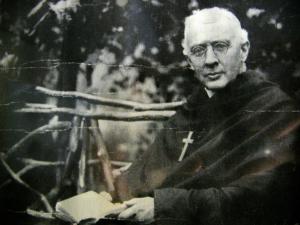 In the Episcopal Church today is celebrated as a feast in honor of James Huntington.
For me I can't think of Father Huntington without also including his father and his grandfather.
In my casual researched I cannot find when Dan Huntington was born. But he graduated from Yale in 1794, later returning to read theology with Timothy Dwight. Not long after he was ordained to the Congregational ministry. During the great tumult within Congregationalism that resulted in American Unitarianism, he was firmly within the liberal camp, preaching as his daughter-in-law Arria would later write, a "Unitarian Christianity, which was.. a mercy and not wrath."
His searching mind would continue to wrestle with the great questions of the spirit and he would often be included, as it emerged within Unitarianism, in lists of the emerging Transcendentalist movement. He wasn't a principal player in the development of the movement, but he was a tireless minister bringing a message of hope, reason, and possibility throughout his life.
Frederick Dan Huntington is a lot easier to get biographical details for. He was born in 1819, the youngest of Dan & Elizabeth Huntington's eleven children. He attended Amherst and then Harvard Divinity after which he was ordained a Unitarian minister. He served as the Plummer professor of Christian morals at Harvard. Crossing over to the Episcopal church, he resigned his professorship, was ordained an Episcopal priest and took up the pulpit at the recently established Emmanuel Church.
He declined election to the episcopate for the Diocese of Maine, but later accepted election to the Diocese of Central New York.
James Otis Sargent Huntington was born in 1854 to Frederick and Hannah Huntington, their younger son. He attended Harvard as an undergraduate and then read theology at St Andrew's Divinity School in Syracuse. He was ordained an Episcopal priest in 1880.
In 1884 together with two companions he formed the Order of the Holy Cross, an Episcopal monastic order. He would serve several terms as its superior.
I hope some day someone will take up the task to write a three-part biography of these men, each a contributor to the celebration of the human heart and the mysteries of the divine life.