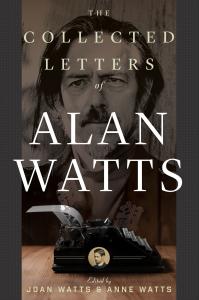 I recently searched my now decade and counting deep blog for "Alan Watts." I discovered I've cited him forty-four different times. These references range from passing allusions, to appreciations of his wit and ironic eye like here, to considerations of his many books, like here, to some speculation on possible connections to alternative spiritualities like here, to full on considerations of who he was, is, and continues to be for many, including me, like here.
He was a flawed figure. No doubt. While Watts is appropriately credited as the first popular introducer of Zen to the West, he also misrepresented the tradition in ways that have had consequences playing out to this day.
As I think needs to be repeated Alan Watts was a complex figure, sometime attractive, and often not. However, or, perhaps in part because of this he has become an archetype of the modern spiritual pilgrim. Watts is at once profoundly knowledgable of ancient traditions which shaped his spirituality while unwilling, sometimes creatively, often recklessly, to submit to the strictures of those traditions. A crash of some sort was inevitable. And, he had several.
In short Alan Watts is endlessly fascinating.
Stanley Krippner writes that Alan Watts told him "In fifty years nobody will remember me." It is now forty-four years since his death and it appears Watts will be proven to have been wildly wrong in that self-assessment. His many books are nearly all in print, his lectures and talks are wildly popular on Youtube both with him presenting in the flesh and as a now ubiquitous cartoon versions provided by South Park creators Trey Martin & Matt Stone & the Simpson's Eddie Rosas.
His Way of Zen was either the first or maybe second after Zen Flesh, Zen Bones, book on Zen that I read. As a young unsui, Zen monastic, I met him twice. I read at least a half dozen of his books. And, some of who I am as a person grows out of a dialogue, well, more an argument with some of his thoughts. In short he is enormously important to me.
And then I was invited to reflect on a brand new book, the Collected Letters of Alan Watts, edited by Joan & Anne Watts, and published this year by New World Library. I was past happy to do so. I've just received it. A handsome book, just a pleasure to hold. But, also so much more. I've now spent a couple of delightful hours with it, and I will be spending more.
So, while a first impression, this little review is meant more to hold up this new book than do it in any in-depth justice. Frankly, that review probably will need to be undertaken by a serious Alan Watts scholar. What follows are some impressions rising as I looked through the whole book and then read into one aspect of it that particularly fascinates me. More on that anon.
These letters have been lovingly curated by his two eldest children, Joan & Anne. Joan is an artist and who worked as a fund raiser for non-profits. Anne is a workshop leader, counselor, and hypnotherapist. Both have proven capable editors, offering their own comments throughout attempting to provide context. And they include their own insider views. I feel this book will be a critical document for future students of this writer and thinker. And, I am confident there will be such students for years to come.
I most enjoyed the collection of letters showing his path into the, for whatever reasons referred to by the technically correct but somewhat misleading use of "Anglican church," but more broadly accurately, Episcopal church. It is my thesis this period is in some ways his most creative. Then how it all falls apart as we see it through his correspondence is perhaps appropriately convoluted and ultimately vague.
And I note all presented from a substantially different perspective than we find in Monica Furlong's magisterial biography Genuine Fake: A Biography of Alan Watts (Published in America with the more pedestrian title Zen Effects: The Life of Alan Watts). After that Anglican section, the single reference to my ordaining Zen teacher Jiyu Kennett is interesting to me.
I was on site at the time and had a view through the roshi's interpretation of all that was happening. All of it inviting Rashomon's meditation on perspective.
For those familiar with aspects of Alan Watts' thinking and presentation on various subjects this inside look at what he thought about it, whatever the specific it might be, at that moment, addressed to some particular person, is genuinely interesting.
This is not an introduction to Alan Watts. First of all it's a useful reference for the scholar. That said, I feel it is a book worth owning, and reading, or perhaps more likely dipping into for anyone who has read say more than two of his books. Perhaps a perfect Christmas gift for that Alan Watts fan in your family. And, I'd put money on the fact there is one…
This is a rare and genuine look into the heart of a complex, sometimes troubled, on occasion self-deluded, and throughout an original and genuinely creative spiritual mind. Probably best read in conjunction with Furlong, but in any case a worthy read.
I highly recommend this book.