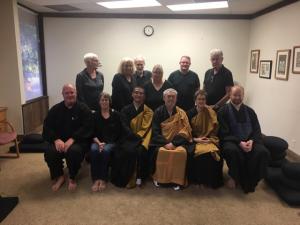 Yesterday evening the Zen priest Gesshin Greenwood and her husband Gensan Thomson came over to our condo where, they, Jan Seymour-Ford and I outlined the schedule for our upcoming inaugural Blue Cliff Zen sangha February sesshin, intensive Zen retreat.
Within that conversation I could see some of the broad outlines of what our new community is shaping up to be. Gesshin trained almost exclusively within Soto temples & monasteries in Japan. Gensan is a product of the San Francisco Zen Center and rather more specifically Tassajara. Jan's training has been as a lay practitioner in centers derivative from the Diamond Sangha, first the California Diamond Sangha (now Pacific Zen Institute) and then for many years with Boundless Way Zen. I, too, am American trained, starting as a Soto priest with the Zen Mission Society (now Shasta Abbey & the Order of Buddhist Contemplatives) and later in the same Diamond Sangha derivates as Jan.
Blue Cliff is now a good two years old. We consist of two sitting groups, one meeting at the Unitarian Universalist Church of Long Beach and the other at the Orange Coast Unitarian Universalist Church in Costa Mesa. Neither are large, all in all if you squint maybe twenty-five people consider themselves part of the project. But, large enough to meet two night a week and to have now offered three zazenkai, one day meditation retreats.
But with this retreat it feels like we're coming into what we will be as a Zen community.
First, and perhaps most obviously we are moving our liturgical practices into closer conformity with Soto disciplines. Although what exactly those are turn out to be somewhat diverse. I was surprised at the differences in titles for various functions such as time keeper, liturgical leader, and sesshin manager even between SFZC, what seems conventional Japanese Soto, as well as the titles used in Boundless Way, which derive ultimately from Diamond Sangha.
Me, I've felt a profound calling to integrating my original priestly practice for some years. I began by claiming the ministerial part of ordination during my years with Boundless Way. But, I am now finding the overtly priestly practices, particularly liturgical as important to me. Here I need to shout out my profound gratitude to Gyokei Yokoyama, minister at the Long Beach Buddhist Church, and a Soto Zen priest and his disciple Seigaku Amado for their kind tutorials. I consider Gyokei, if informally, the third priest in our emerging sangha together with Gesshin and myself.
And, I'm glad Jan is central to our leadership as she has no interest in ordained practice, while also emerging as a spiritual director within our community, with the tutelage of her principal teacher Melissa Myozen Blacker of Boundless Way. So, that guarantees our Blue Cliff is going to be an open and inclusive Soto, where lay and ordained can practice together and a genuine path of mutual verification can arise.
What we've agreed to is that our liturgical texts will be Soto School Scriptures for Daily Service and Practice. (Okay, with one or two traditional Rinzai texts that are contained in the Boundless Way liturgy and which are dear to my heart) Our names for the various functions are still in negotiation, but are shifting to more obviously Soto. We've agreed to bringing our forms into alignment with the Soto style, but this retreat is where that begins to be less theoretical and more concrete.
I'm past grateful for the Harada Sogaku Soto reformed koan curriculum that has been the center of my spiritual life. And continues to inform who I am and the heart of my practice to this minute. And koan introspection and guidance will continue to be a distinctive feature of our practice. Although I find it important to uphold that our particular koan practice is fully part of the Soto inheritance.
And perhaps the proof of the pudding of the reality of this project are the people who've already thrown their hearts into our practice. I particularly think of the leadership taken on by Chris Hoff and Tom Bowman, and as well as the others coming up right behind them. Those twenty-five or so each at their own place on the great journey, but willing for Blue Cliff to be a significant part of the journey. Its rich. And its humbling.
I am looking to turning seventy this coming July. So, I feel a bit of urgency around this project. But, already some talented and wise people are gathering together with us, and I genuinely feel something is birthing.
An expression of Zen for our time and place. An opportunity to heal hearts, starting with our own.
Life is good.
I'm so grateful…