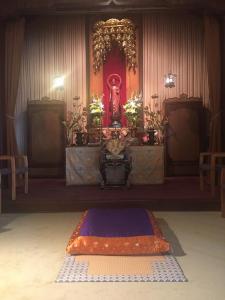 This morning I attended services at the Long Beach Buddhist Church.
The congregation was formed in 1951, bringing together people of Japanese descent who met across denominational lines during their internment in the Second World War. The church while an independent and nondenominational congregation is also officially registered as a temple with the Sotoshu, and all four of the ministers who have been called to serve have been Soto priests.
The incumbent is my friend the Reverend Gyokei Yukinori Yokoyama.
The Sunday program has recently expanded. Starting with an opportunity to sit at 8:30. At 9:30 there's an English language Sutra service. And, then at 10:30 the "Traditional" service developed by the founding minister, the Reverend Kosai Osada.
I found the opening hymn of the traditional service particularly capturing my imagination as it had been written by
Dorothy Hunt
, a pioneer of the convert Buddhist community and an early Zen priest.
Following the English language Sutra service and before the Traditional service Gyokei Sensei showed a couple of films from the Sotoshu office. While they're not complete, the history of the convert outreach missed some important figures, nonetheless, two pretty good films.
For your entertainment & edification…