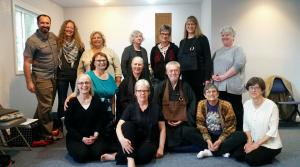 As I write this I am sitting at SeaTec in Seattle waiting on the first leg of my flight back to Long Beach.
I've just completed a four-day commuter Zen meditation retreat here in Seattle. The group was drawn primarily from the two Bright Cloud sanghas. They meet at two Unitarian Universalist churches in the area and the group was almost entirely composed of UUs.
So, not a conventional Zen sesshin. We began and ended with partial days, about five hours each. For the two middle days we began at nine and ran until nine, so a solid twelve hours together at the heart of the retreat. It was driven by zazen and more zazen interspersed with two dharma talks and some liturgy. Lunch was silent but at tables and with only a vestigial liturgy. Of the twenty two present there was a fair amount of coming and going, averaging about fifteen at any given time. Maybe half attended the entire retreat. Nearly everyone sat in chairs.
I was taken by the fact this was an open retreat. Not only did people come and go on their own schedule, but there were no requirements such as we have for a regular sesshin: a settled Zen meditation practice and attendance at at least one day-long.
What surprised me was how well our leaky container worked.
We were, as is always the case, all over the map. The interviews ran longer than my normal koan-centric dokusans, although not enormously so. But, I was able to meet with everyone at least twice, and the three koan practitioners three times each.
What I witnessed both in the meditation hall and in those interviews was a band of people seriously seeking. And even willing to try on some hard work. Sitting for what is effectively nine hours and change a day, even in a chair, focusing on presence, getting lost, returning, wandering off into various mind realm, returning, hurting, returning. Returning. That's the real deal.
Come, come, whoever you are
Wanderer, worshiper, lover of leaving.
Ours is no caravan of dispair.
Even if you've broken your vow a hundred times,
Come.
Yet again, come.
I've often said the practice of zazen is the project of hide and seek. And, if we were to have a mantra, it would have to be:
There are various attempts at "translating" it, but I take it to mean "Come home, come home, all is forgiven."
I find the practice of Zen meditation a healing balm for the broken heart.
A matter of sadness and joy intertwined. And presented.
Found as we return to who we are. Found as we turn that light inward. And just witness.
The body, in all its magnificence and shame, pain and ecstasy cheek by jowl. Presented.
A facing into our hearts. Presence.
And a caravan of discovery. Alone. Together.
And, it was such a joy to see people trying it on. Each in their own way, each in our own moment. What will come of this? Who knows. We each are following the mysterious currents of the karma of our lives. But. I see people willing to give it a try. And a real try.
Whether it sinks into the hearts, or simply becomes a small whisper in the back of their minds, it is all good.
But, me. I realize just how I am so grateful to have found this way. And companions, some for a moment, some for a lifetime. All of us on this mysterious caravan of discovery…