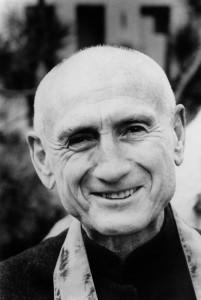 I see it is the fifth of August. This is an important day in the history of Zen come West.
It's the day that Philip Kapleau saw into his own heart and found the universe. And because of that, at least in part, a chain of events would lead to the establishment of one of the central Zen centers at the foundation of our Western Zen schools. It also guaranteed that koan introspection would be a part of that establishment.
I only met Philip Kapleau once, but I count it as one of the small blessings of my life that I got to. His story was complicated and not entirely without controversy. And due to some judgementalness on my part I could easily have missed the chance. For once a larger view overtook the petty, and, well, I got to meet him.
He edited a critical volume introducing Zen to the West as an actual living tradition bringing astonishing gifts. The Three Pillars of Zen would later be criticized for overly emphasizing the quest for kensho. Perhaps over emphasizing. Me, I'm not so sure of that.
The drama of Yasutani Roshi's sesshin are famous, with shouts and leaning into the kyosaku and all night sits and encouragements that bled quickly into expectations of pushing into the great matter that were reminiscent of early tales of the Zen way. It also had the consequence on occasion of leaving people broken and who left when a gentler path would have worked.
Me, I can testify that we don't need the practice to be as physically or psychologically challenging to be successful. Although it does have to be relentless. And relentless is something people in the West often are unfamiliar with. This is no path for the passive heart. The call is to great doubt, great faith, and great energy. Without these Zen becomes an exercise in self-improvement With these three things, all of them, then the healing of the world itself is possible.
And, there is no doubt what he experienced and described often worked.
And it certainly worked for Philip Kapleau.
Probably the most controversial part of Three Pillars of Zen is the section that recounts various contemporary people's awakening experiences. There were eight accounts, four were Japanese, three Americans, and one Canadian. Three of the eight were women.
On the one hand they have been justifiably criticized. One commentator described them as a sort of "Zen porn." More to the point they describe individual's experiences that are very much contextual to those individuals. And, and it did happen, people could measure themselves against these descriptions and lose heart. Or, chase after other people's experiences.
Others, however, were captured by the possibilities embedded in those personal accounts.. And, much of a generation of Westerners who would go on to become serious and life-long Zen practitioners of Soto, and Rinzai, and the lay Soto reformed koan school, Sanbo Zen, and its successor organizations, well, for them, often their first, or second, or third book was Three Pillars. It was true for me.
Among those eight people one was described as "Mr P. K., an American Ex-Businessman."
After five years in Japan intensely practicing Zen with Soen Nakagawa Roshi, Daiun Sogaku Harada, and Harada Roshi's heir Hakuun Yasutani Roshi, on the 1st August in 1958 Philip Kapleau began sesshin. It would be his twentieth seven-day intensive Zen meditation retreat with Yasutani Roshi. Then on the 4th, he had an awakening. And, then, on the 5th…
Well, how about his own telling of what happened:
AUGUST I, 1958 / . . . Sesshin's underway! . . . Quickly my con­centration became strongly pitched. . . . Boring into Mu, thinking only Mu, breathing Mu. . . .
AUGUST 3, 1958 / First two days passed quickly, uneventfully. . . .
AUGUST 4, 1958 / Reached a white heat today. . . . Monitors whacked me time and again. . . their energetic stick wielding is no longer an annoyance but a spur. . . . Raced to the line-up with each clang of the dokusan bell to be first to see the roshi. . . . Hardly aware of pain in legs. . . . Was so eager to confront him that once or twice charged into his dokusan room without waiting for his signal. . . . When he asked me to show him Mu, I spontaneously seized his fan, fanned myself, picked up his handbell, rang it, and then left. . . .
At next dokusan he again asked for Mu. Quickly raised my hand as though to smack him. Didn't intend to really hit him, but the roshi, taking no chances, ducked. . . . How exhilarating these un­ premeditated movements-clean and free. . . .
Animatedly the roshi warned: "You are now facing the last and toughest barrier between you and Self-realization. This is the time one feels, in the words of an ancient master, as though he were a mosquito attacking an iron bowl. But you must bore, bore, bore, tirelessly. . . . Come what may, don't let go of Mu. . . . Do zazen all night if you feel you may lose Mu in your sleep." . . .
"Mu'd" silently in temple garden till clock struck one. . . . Rose to exercise. stiff aching legs, staggered into a nearby fence. Suddenly
I realized: the fence and I are one formless wood-and-flesh Mu. Of course! . . . Vastly energized by this . . . pushed on till the 4 a.m. gong.
AUGUST 5, 1958 / Didn't intend to tell Roshi of my insight, but as soon as I came before him he demanded: "What happened last night?" . . . While I talked, his keen darting eyes X-rayed every inch of me, then slowly he began quizzing me: "Where do you see Mu? . . . How do you see Mu? . . . When do you see Mu? . . . How old is Mu? . . .What is the color of Mu? . . . What is the sound of Mu? . . . How much does Mu weigh?" . . .
Some of my answers came quickly, some haltingly. . . . Once or twice Roshi smiled, but mostly he listened in serene silence … Then he spoke: "There are some roshi who might sanction such a tip-of-the-tongue taste as kensho, but-"
"I wouldn't accept sanction of such a picayune experience even if you wanted to grant it. Have I labored like a mountain these five years only to bring forth this mouse? I'll go on!" . . .
"Good! I respect your spirit."
Threw myself into Mu for another nine hours· with such utter absorption that I completely vanished. . . . I didn't eat breakfast, Mu did. I didn't sweep and wash the floors after breakfast, Mu did. I didn't eat lunch, Mu ate. . . . Once or twice ideas of satori started to rear their heads, but Mu promptly chopped them off. . . .
Again and again the monitors whacked me, crying: "Victory is yours if you don't relinquish your hold on Mu!" . . .
Afternoon dokusan! . . . Hawklike, the roshi scrutinized me as I entered his room, walked toward him, prostrated myself, and sat before him with my mind alert and exhilarated. . . .
"The universe is One," he began, each word tearing into my mind like a bullet. "The moon of Truth-" All at once the roshi, the room, every single thing disappeared in a dazzling stream of illumination and I felt myself bathed in a delicious, Wlspeakable delight. . . . For a fleeting eternity I was alone – I alone was. . . .Then the roshi swam into view. Our eyes met and flowed into each other, and we burst out laughing. . . .
"I have it! I know! There is nothing, absolutely nothing. I am everything and everything is nothing!" I exclaimed more to myself than to the roshi, and got up and walked out. . . .
At the evening dokusan Roshi again put to me some of the previous questions and added a few new ones: "Where were you born? . . . If you had to die right now, what would you do? " . . . This time my answers obviously pleased him, for he smiled frequently. But I didn't care, for now I knew. . . .
"Although your realization is dear," Roshi explained, "you can expand and deepen it infmitely. . . .
"There are degrees of kensho. . . . Take two people gazing at a cow, one standing at a distance, the other nearby. The distant one says: 'I know it's a cow, but I'm not sure ofits color.' The other says unequivocally: 'I know it's a brown cow.' . . .
"Henceforth your approach to koans will be different," the roshi said, and he explained my future mode ofpractice. . . .
Returned to the main hall. . . . As I slipped back into my place Grandmother Yamaguchi, our part-time godo, tiptoed over to me and with eyes aglow whispered: "Wonderful, isn't it! I'm so happy for you ! " . . . I resumed my zazen, laughing, sobbing, and muttering to myself: "It was before me all the time, yet it took me five years to see it." . . . A line Tangen-san had once quoted me rang in my ears: "Sometimes even in the driest hole one can find water."
AUGUST 9, 1958 I Feel free as a fish swimming in an ocean ofcool, clear water after being stuck in a tank of glue. . . . and so grateful. Grateful for everything that has happened to me, grateful to every­ one who encouraged and sustained me in spite of my immature per­ sonality and stubborn nature.
But mostly I am grateful for my human body, for the privilege as a human being to know this Joy, like no other.