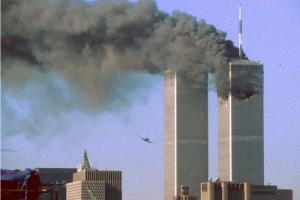 The following was the central illustration in my sermon on the Sunday immediately following 9/11, something it felt important to notice even before we knew that day would be called 9/11. Even after. Even after all these years…
Just before the first tower fell, trapped on the 105th floor where he worked for the investment bank Cantor-Fitzgerald, 32 year old Stuart Meltzer had time to make one phone call. He chose to call his wife. She wasn't at home, so he left a message on their answering machine.
"Honey, something terrible is happening. I don't think I am going to make it. I love you. Take care of the children."
The wisest words are almost always small words. But they can summarize it all. Stuart Meltzer sets the stage for all of us, sets the conditions for our finding of perspective, for our coming to wisdom.
"Honey, something terrible is happening. I don't think I'm going to make it." He confesses a real, if hard truth. We all will die. There is no doubt, even though we can cloud our awareness of this fact for a time, we, each and every blessed one of us will die. But, when we allow ourselves to truly understand our passingness, that we only occupy this life for a brief time, then we find things can click into place, we can find harmony and balance and most important of all, we can find that precious perspective. Within our experience of this perspective, of how we are beautiful and temporary, we can distill out of our ordinary passing experience, enough.
And what is that "enough?" Me, I think it consists of two things.
First. Stuart said it in the face of his dying: "I love you." So powerful, so simple, so truthful of everything that makes us human. Love is the most mysterious force on this planet. No wonder we use it as the fundamental synonym for God. Love is the longing of the human heart; it is the knowing that even in our temporariness, we are also connected. As the hymn tells us, as we open our hearts, love will guide us.
And, of course, it doesn't simply end there. Love is attached to something. For Stewart it led to what we can call his last words.
Second: "Take care of the children."
On a quest for meaning and purpose in this life?
Well. A pointer from the 105th floor of the World Trade center.