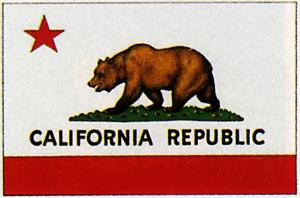 As part of the settlement of surrender in 1848, Mexico ceded a vast amount of territory to the United States. This included California.
The following year California applied to be admitted as a state. And the year after that, actually on this day in 1850 California was admitted not only as a state but, critically as a free state. The 31st state within the Union.
In the moment it was all about gold and slavery and a good sized dash of manifest destiny. The Chinese who immigrated there called California "Gold Mountain." (Later the term would apply variously to the whole West coast and more narrowly simply to San Francisco…) Everyone saw it as the land of possibilities.
It goes with our name California. First, we should note humans have lived here for about nineteen thousand years. And peoples with cultures similar to surviving tribes are traced at least to the fifth century before our common era.  Early Spanish explorers thought the area was an island, and according to the most popular of the legends for the etymology of California was that it was adapted from a popular novel of the time about a black muslim amazon queen, Calafia.
California the dream land of many people…
Today California is one of the great liberal bastions within the American Republic. As an economic force it is the largest among the American states and fifth within the world, ahead of France and the United Kingdom. It has had strong influences in areas as diverse as school textbook selection and automotive emission regulations. Within our American Federalist system it is a major trend setter, something way beyond its enormous cultural contributions.
And. This is my native land. I was born in Oakland in 1948.
My Zen training was centered here in San Francisco, and Berkeley, back to San Francisco, and then Oakland, and then in Mt Shasta. Later back to the Bay Area for years of koan introspection.
As a high school drop out it was California's community college system that gave me a way in to formal academic study, it's California State University system that traditionally opened doors to the working classes (and in my case rather lower) and specifically Sonoma State University that provided me in my thirties a college education, and then the wondrous Pacific School of Religion and the Graduate Theological Union in Berkeley that polished my schooling.
California shaped me.
The other day Jan & I were in a local grocery and wanted to purchase a container of pico de gallo. The problem was it was the last container and had been mis-labeled and enough overprice that we wanted it addressed. Jan spoke to the clerk in Spanish while the clerk responded in English, keeping me in the loop, I thought rather kindly. It felt a very California moment. Then today I was able to attend two church services. The first at our Long Beach Unitarian Universalist congregation. The service began with a shofar and the recurring theme of the service was new beginnings. Then I attended the Long Beach Buddhist Church's service, a special dedication to the coming autumn. It was conducted in Japanese and English, with the minister making sure those who were monolingual one way or another were all included. It felt very California.
Oh, and did I mention we have the best food in the world. And, maybe beyond. California is the cradle of my heart. Yes, for ill as well as good. So many shadows in this land of mountains and sea…
Still, after years wandering around this country, I am now in my dotage back home to the land of fire and flood and earthquake.
So good to be home.
California