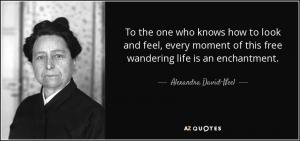 Alexandra David-Need is one of the singular figures at the dawn of European Buddhism. All of us, whatever school of the great way we embrace, if we were raised in the West and came to the dharma as adults, her fingerprints are all over what we encounter. I would add, for ill as well as for good. But, I also believe, genuinely, most of all for the good.
So, the story…
Louise Eugenie Alexandrien Marie David was born on this day, the 24th of October, 1868, in the eastern suburbs of Paris.
Her father was a journalist and school teacher, Republican activist and Freemason. Her mother a Belgian Roman Catholic. In 1871, her father took two-year old Eugenie, as they called her, to witness the execution of the last of the communards. The stories of her life always include this encounter and the vestigial memories of death would have on her forming sense of self and life. Two years after that incident the family moved to Belgium.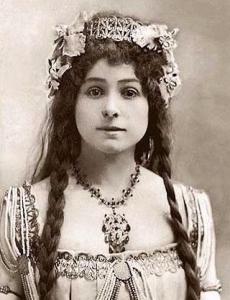 Her family was poor until her mother's father's death, after which Eugenie had adequate if somewhat precarious resources to pursue her interests. In her mid-teens those interests began to focus on spirituality. Most notably she was attracted to ascetics and mystics. She tried a number of spiritual disciplines, especially fasting and self-punishments. By eighteen she'd traveled throughout Europe, began to read Madam Blavatsky and joined a number of secret societies, including the co-masons. Following her fathers political inclinations, she became an anarchist.
At twenty-one she formally declared herself a Buddhist. I suspect this would have been Theosophical Buddhism. However she also had the resources and energy and time to devote to her studies and quickly widened her understanding of the dharma. She spent long hours at the library at the British Museum and the Guimet Museum. Here she began to read Eugene Burnouf and other early Buddhist scholars. She also began to learn English, Sanskrit, and Tibetan.
Just because she was who she was she had a brief, and generally successful career as an opera singer, adopting Alexandra Myrial as her stage name. In 1904, when she was thirty-six Alexandria married Philippe Neel de Saint-Sauveur. In 1911 she decided to return to India, which would be her third trip to the subcontinent, promising to return in nineteen months. While she and Philippe remained married, they wouldn't see each other again for fourteen years.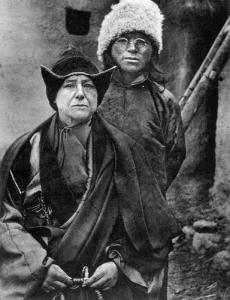 In 1912 Alexandra arrived in Sikkim. There she met many lamas and other significant figures, including the thirteenth Dalai Lama who was then living in exile. Living for several years near the Tibetan border, she dug deep into Tibetan teachings and practices. In 1914 she met the young lama Aphur Yongden, who would become her life-long companion and assistant. In 1916 she traveled into Tibet and spent time with the Panchen Lama, continuing to study. When she returned to Sikkim, the British authorities, apparently at the urging of Christian missionaries, expelled her.
She spent the war years in India and Japan.
However it was Tibet that called to her. And in 1924, disguised as a beggar she and her companion the monk Yongden returned to Tibet and she made her way to Lhasa. At that time the only woman of European descent to have done so.
In 1927 Alexandra returned to France. In 1929 she wrote what would become her most famous book Magic and Mystery in Tibet. Between 1937 and 1946 she returned to Asia spending time principally in China, where she focused on the study of Daoism. During these years she learned of her husband's death in 1941.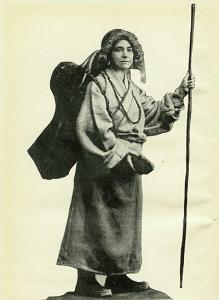 In 1946,at the age of 78, Alexandra David-Neel finally returned home to France. She died in 1969, just shy of her 101st birthday. I gather one of her last acts was to apply for a renewal for her passport.
Lama Yongden took her ashes to India and dispersed them into the Ganges.
Assessments of Alexandra David-Neel seem inevitably to fall apart. It's true that after she returned from Asia, she ceased practices, viewing Buddhism as a philosophy rather than a religion with disciplines. There are also the various problems with Orientalism, and she certainly fell into several of those traps. Her Buddhism, while profoundly informed by both deep reading and personal encounter, was probably best described as Theosophically-tinged and ultimately rationalist and modernist. Not bad in my estimation, but to be noted. And.
And.
And, she is a one-off, an incredible, considering time and place, astonishing figure.
Alexandra David-Need was a true forerunning for our modern convert Buddhisms.
Well worth remembering. And, I believe, celebrating…