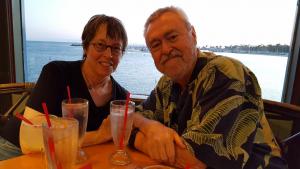 Today, the 26th of June, 2019, Jan Seymour-Ford and I have been married thirty-seven years.
Thirty-seven is a prime number, one of several special kinds of prime numbers. That's nice. It's the atomic number for rubidium, an element with which I was not previously familiar. Although it turns out to be the twenty-third most common element found here on Earth. It is sometimes added to fireworks to produce a purple color. And, I gather, it has one or two other uses. But I do like fireworks. It's the number of plays generally believed to have been written by the Bard of Avon, although there are demmurals of several sorts to this. There are apparently thirty-seven major spirits called Nats that are worshiped along with the observances of Theravada Buddhism in Myanmar. And, if you measure by celsius, thirty-seven is our normative human temperature.
I looked these up. And, I am duly impressed with the significance of thirty-seven. I'm sure you'd have to agree.
I also looked up gifts, and there is no official gift to mark this occasion. When they were cooking up such lists I fear people were living much shorter lives. Or, maybe folk just get bored and wait for the "big" zeros or fives. Although, there is a gemstone for the occasion: alabaster. My more metaphysically inclined friends say alabaster has the occult property of drawing things to the wearer. Sometimes stuff you want. Sometimes stuff you don't.
We've decided we'll just go for dinner.
Actually we've been celebrating since Sunday afternoon when after I preached at the First Unitarian Church in Los Angeles, we caught the Catalina Express to Avalon. As we're both California natives, Jan had been there once, at about fourteen, while I've never set foot on that little bit of rock we can see on clear days from Long Beach, sticking out there on the horizon, not quite thirty miles from that particular stretch of beach about four blocks from our condo.
I think of these thirty-seven years. Me, I count myself lucky beyond deserving. Those who know both of us seem to agree. Jan, well, I can't say what it says about her. She doesn't seem particularly long suffering.
Our little adventure on the island ends today, so our dinner will be somewhere back in Long Beach or nearby. Where precisely hasn't been decided. We're counting on a bit of serendipity…
Getting old has its moments. And one of the most delicious is having a partner to enjoy them with.
Hoping for thirty-seven more is both greedy and not particularly likely. But, whatever the fates have decreed, I'm so glad for these past years and glad that Jan & I have each other for some part of what comes next. More, I hope, then fewer.
As time goes by…
You must remember this
A kiss is just a kiss
A sigh is just a sigh
The fundamental things apply
As time goes by
And when two lovers woo
They still say "I love you"
On that you can rely
No matter what the future brings
As time goes by
Moonlight and love songsNever out of dateHearts full of passionJealousy and hateWoman needs man,* and man must have his mate
That no one can deny
It's still the same old story
A fight for love and glory
A case of do or die
The world will always welcome lovers
As time goes by
Moonlight and love songs
Never out of date
Hearts full of passion
Jealousy and hate
Woman needs man, and man must have his mate
That no one can deny
It's still the same old story
A fight for love and glory
A case of do or die
The world will always welcome lovers
As time goes by
* Not quite right. But, right broadly, the real point in this passing, passing world, however love is shaped, whoever's heart finds a calling to another, finds a wondrous thing.