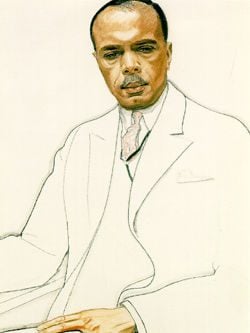 The immortal James Weldon Johnson was born on this day, the 17th of June, in 1871 in Jacksonville, Florida.
Me, I think of him as one of those wonderful examples where genius rises despite astonishing obstacles. Against a backdrop of terrible racism and bigotry he wove a life.
James Weldon Johnson's writings included the Autobiography of an Ex-Colored Man, Along the Way, and God's Trombones. He also wrote the lyrics in a collaboration with his brother Rosamond for Lift Ev'ry Voice and Sing. In 1919 the NAACP called it the "Negro National Anthem." He wrote the words, his brother the music.
According to Wikipedia, "In 1990, singer Melba Moore released a modern rendition of the song, which she recorded along with others including R&B artists Stephanie Mills, Freddie Jackson, Anita Baker, Dionne Warwick, Bobby Brown, Stevie Wonder, Jeffrey Osborne, and Howard Hewett; and gospel artists BeBe & CeCe Winans, Take 6, and The Clark Sisters, after which, "Lift Ev'ry Voice and Sing" was entered into the Congressional Record by Del. Walter Fauntroy (D–DC). In 2008, jazz singer Rene Marie was asked to perform the national anthem at a civic event in Denver, Colorado, where she caused a controversy by substituting the words of "Lift Every Voice and Sing" into the song. This arrangement of the words of "Lift Ev'ry Voice and Sing" with the melody of "The Star Spangled Banner" became part of the titular suite on her 2011 CD release, The Voice of My Beautiful Country. On January 20, 2009, the Rev. Joseph Lowery, who was formerly president of the Southern Christian Leadership Conference, used a near-verbatim recitation of the song's third stanza to begin his benediction at the inauguration ceremony for President Barack Obama. On September 24, 2016, this song was sung by mezzo-soprano Denyce Graves and chorus at the conclusion of the opening ceremonies of the National Museum of African American History and Culture, at which Obama delivered the keynote address. On October 19, 2017, when white nationalist leader Richard Spencer spoke at the University of Florida, the university's carillon played "Lift Ev'ry Voice and Sing" to convey a message of unity."
But this cannot define Johnson's life. It was a litany of accomplishments of which this was simply a crowning jewel: civil rights leader, US counsel to Venezuela and Nicaragua, first African American to be named a professor at New York University, and later professor of creative literature at Fisk.
James Weldon Johnson may at this point be best remembered as one of the leading lights of the Harlem Renaissance.
A singular figure. Someone to remember. And someone to celebrate.