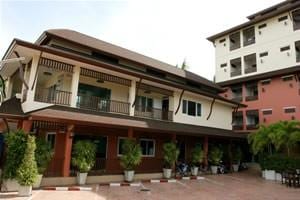 Here I am. In Bangkok.
That was the longest flight I've ever taken in my life. Fourteen hours in the air from LAX to Taipei. Flying Eva Airlines. A three hour layover. And then another four hours to Bangkok. I still can't figure out how I've lost a day in that trip. But, it is Friday the 27th back home in Long Beach and Saturday the 28th, here in the Big Mango.
I arrived just ahead of midnight. Passing through customs was not a big deal. Actually both the Taipei and Bangkok airports are major international airports with lots of amenities. While walking through the Taipei airport to find my connecting flight I saw two stores I hope I'll have time to browse on my return home, a Taiwanese museum store and another dedicated to "Formosan indigenous" crafts.
As I exited security something appears to have happened. There were a ton of security people and people looking right were I was standing. I turned my head up and saw two levels where people were all staring down at the more or less empty place I was, again, standing. I was more concerned with connecting with the hotel, so I didn't ask what had happened. And, later googling couldn't find any reference to it in the English speaking corner of the inter web. One of those small forever mysteries…
I did have some trouble finding my ride. It turned out there were, if my count is right, four or maybe five different areas where people picking people up were placed. (Note to self: get clear on how to write Bangkok addresses for Uber. And, I think there may be another ride share app for Bangkok, learn more…). Finally, I walked up and missed my first really cool photo opportunity. The man with a sign with my name on it. Well, it's captured in my head.
The ride to the airport was uneventful. Although I realized I didn't know what tipping looks like. Again a quick google search helped. (Another note to self: get a currency converting app before venturing into the world.) Checking in was also uneventful.
I'm staying at the hotel the good folk at Two Truths use for their tours. The Orchid Resort Hotel is a nice budget hotel. My room is largish with a television that seems to have about a million channels. At least I got bored before running through all the stations I could pick up. It was cool to find instead of Christian evangelists, two shows featuring Buddhist monks holding forth, and another with what I assume was an imam sharing the good word. I passed through a lot of English language viewing, and paused briefly for an Indian Bollywood epic dubbed into Thai.
The bathroom was instantly fascinating to me. The bathroom is the shower. Very efficient. And, while there is toilet paper, there's a sign that tells me not to flush said paper after use. There's a discrete garbage can with a foot operated lid. But, more interesting is a hand held bidet faucet. My first. What can I say? I've lived a sheltered life. So… I googled it.
A fitful nights sleep.
And up at four fifty local time. I might get a nap later today. But, I might also try to power through, which I think will put me comfortably into the local time zone.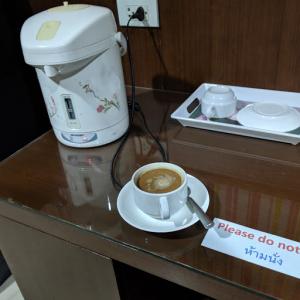 My obsession with having an adequate cup of coffee has been just this side of certifiable. I believe there is a patisserie within walking distance that is alleged to have an espresso machine. I hope to find out later today. Certainly by tomorrow. However, I have packed a rather embarrassingly large number of Vias (I think of it as my methadone) and a powdered creamer.
It took me a while to interpret the instructions to "Please do not sit," which I've decided does not mean do not sit, but rather, do not sit on the counter.
I am complying.
Well. We are now officially up to date. I will now proceed to complete my toilet. And then to see what the breakfast is that is on offer at the restaurant attached to the hotel. I suspect tomorrow I will venture a bit farther afield. Wondering what a traditional Thai breakfast looks like…
Respectfully submitted,
Myoun
James Myoun Ford
Wandering American Zen priest