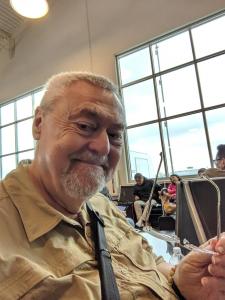 Here I am ensconced in Tom Bradley International Terminal at LAX.
I've made it through security. Apparently the heavy lifting will be on the other side when I arrive (by way of a three hour layover in Taipai) in Bangkok some twenty-one hours from now.
If I am lucky once I make my way through customs I will be greeted by a driver from the hotel.
This is all adventuring for me.
I've rarely been abroad. Beyond the assumed ventures into Canada & Mexico I've only been to England and Ireland. All my Zen training has been in the US, most of that in California.
This trip to Thailand and then Bhutan, while not on my bucket list (okay I don't actually have a bucket list, but, I really had not thought about either destination), was an opportunity I'm glad I accepted when presented. Well, actually, when Charles from Two Truths sent me a note inviting me to be one of the theme presenters for their Buddhist immersion spiritual pilgrimage to Bhutan, I declined. I begged old age. And, well, I'm Zen not any variety of the Vajrayana. He persisted.
And, now, well, in an hour I will be boarding my Eva Air flight.
It has gotten real. At seventy-one I'm off to Asia. Sadly, without Jan. This will be the longest we've been apart since I taught at Meadville Lombard in Chicago during a sabbatical thirteen years ago. This will be my first, and likely only experience of visiting a predominantly Buddhist country. Actually two. And, with that likely my only trip to Asia.
And, I'm past excited. In Bangkok I'm on my own for a couple of days. I've been researching both the site where
John Blofeld
's ashes are interred and the site where
Thomas Merton
died. And then, while researching these sites, it turns out neither are regular pilgrimage destinations, I met
Joe Shakarchi
. He's a friend of a friend of mine.
Joe and his wife Daru have taken me under their wing and have offered to get me to both locations over the next couple of days. And if time allows maybe taking me around other Bangkok Buddhist sites. Apparently they have soft spots in their hearts for wandering dharma pilgrims.
Joe is part of the expat Buddhist community in Bangkok and an old Zen hand. He spent years with the San Francisco Zen Center before retiring from college teaching and landing in Thailand. And, well, we know a bunch of people in common. Not being a regular traveler I don't know how common such serendipities occur. But, me, I'm past grateful.
From there I'll be off to Bhutan.
Ah. As I look up from my screen three monks just walked by me, looked around, and found a couple of seats to sit in. Strike that. Now five.
Did I say its getting real?
I will be live blogging my adventures.
I hope you'll want to come along…
While looking for something on Buddhist Bangkok on Youtube. I stumbled on this. I probably will not take advantage of the opportunity…
On the other hand. Of course. One must eat…