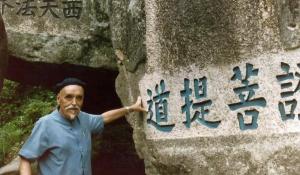 John Eaton Calthorpe Blofeld died on this day, the 7th of June, in 1987. He would become an important early interpreter of both Zen and Tibetan Buddhism to the West. His mature life practice was within the Vajrayana tradition as an initiate of the Nyingma tradition.
Blofeld was born into a middle class family London on the 2nd of April, 1913. In later years he would describe in childhood finding a small figurine of the Buddha and feeling an immediate overpowering attraction. Cajoling his aunt to purchase it for him, he took it home, where every evening he would place flowers before the image and bow. Later he would cite it as an early instance of his recalling earlier lives.
Blofeld attended Downing College in Cambridge, but left without a degree to go to China. For several years he lived in Hong Kong teaching English at Munsang College while learning Chinese. In 1935 he obtained a teaching position at a school in Tianjin. Its relative proximity to Beijing allowed him to spend three nights a week there. In the summer of 1937 he returned to England. A few months later he returned to Hong Kong, where he would live until 1939.
He returned to England to enroll at School of Oriental and African Studies at the University of London. He spent a year studying East Asian languages. The war intervened when he served as a counterintelligence officer and cultural attache at the English embassy in Chongqing. When the war ended he returned to Cambridge earning a master's degree in literature.
In 1946 he returned to China now with a grant to study Tang Dynasty Buddhism while teaching at Shi Fan University. There he met, fell in love, and married Change Mei-feng. Just ahead of the Communist takeover, the couple fled to Hong Kong. There their first child Ming Deh was born, followed a year later by Shueh Chan. From Hong Kong he accepted a position with the UN at Bangkok.
In 1987 John Blofeld died in Bangkok. His ashes were interred there at a Chinese Guan Yin temple.
He is probably best known as the author of numerous books, including the Zen Teaching of Huang Po, the Zen Teachings of Hui Hai, the Tantric Mysticism of Tibet, and a memoir, the Wheel of Life: The Autobiography of a Western Buddhist.
Some of his work has been criticized for bringing a Western Romantic lens through which he saw the wisdoms of East Asia. Probably true.
And, John Blofeld was a central ancestor for any of us called to those wisdoms ourselves.
One of our ancestors.
To be remembered and thanked.