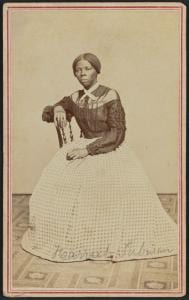 Araminta Ross was born a slave somewhere around 1820 in Maryland. One of vastly too many. Her life was brutal. At one time when one of her owners threw a heavy weight at another slave while she tried to intervene, she was accidentally hit. She would suffer spells of dizziness and pain for the rest of her life.
While it was illegal she married John Tubman, a free man in 1844, taking his family name. She also gave herself a first name, Harriet.
And then something happened.
Today, the 17th of September, in 1849, at about the age of twenty-nine Harriet escaped to freedom. Her husband refused to accompany her.
Harriet Tubman's first act after that dramatic escape was to return and gather up her family and lead them to freedom. She would eventually lead some thirteen bands of escaped slaves out of bondage.
In the run up to the Civil War she assisted John Brown in preparing for his raid on Harper's Ferry. During the war she worked as a cook, as a nurse, and eventually as an armed scout and spy. Harriet Tubman is counted as the first woman to lead an armed expedition in the war when she led the raid on Combanhee Ferry, freeing a hundred slaves.
When the war ended, she retired to her home in Auburn, New York, where she focused on caring for her elderly parents. She married a Civil War veteran, Nelson Davis.
Unable to just rest on her laurels, Harriet Tubman soon turned to women's suffrage, which she labored for until old age and illness overtook her.
Eventually he received a small pension as the widow of a veteran, and later one in recognition of her own astonishing work.
Harriet Tubman, the woman called Moses, died in 1913 and was buried with military honors. She an American hero, well deserving of replacing one of our more problematic presidents on our currency, as was planned before the current president took office. No doubt just a matter of time before this is corrected.