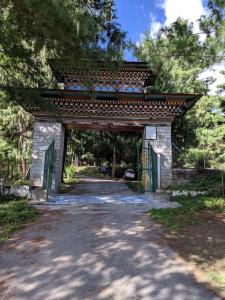 We continue our seminar with spurts of meditation.
First a word about where we are gathering. It's called Thekchog Choki Gatsel. It was founded by the late Tibetan exile, later head of the Ningmapa sect, and near as I can tell all around Buddhist saint, Dilgo Khyentse. The Rinpoche was born in 1910 in Eastern Tibet. At seven he was recognized as a Tulku, the reincarnation of a principle Nyingmapa monk. After completing his basic education and preliminary practices he entered a thirteen year retreat. At some point he requested the opportunity to go into a life retreat, becoming a hermit, but instead his teachers directed him to take up public teaching.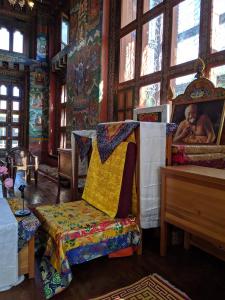 He did.
When the Chinese invaded Tibet he was part of the band that fled with the Dalai Lama. The Bhutanese royal family invited him to the kingdom to settle and to teach. A home was provided by the Queen, and while he maintained a peripatetic life, visiting and teaching, Bhutan would be a place he regularly returned to.
The Dalai Lama considered the Rinpoche one of his principal teachers, especially in the arts of Dzogchen. When I learned this, it caught my ear, as Dzoghen is said to have similarities to Zen. In addition to the Dalai Lama he was a principal teacher for significant figures, if each in ways to become controversial, Chögyam Trungpa, Sangharakshita, and Surya Das.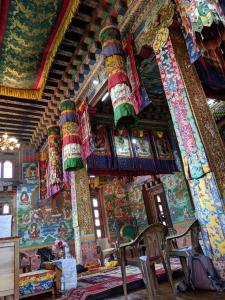 Dilgo Khyentse died in Bhutan in 1991.
His presence fills the grounds where we are holding our seminar. In the temple where we are gathered his portrait rests upon a teaching throne. When I sit to give my talks, as with all the others, he is right behind us, looking over our shoulders. Or, as my fellow presenter David Roadhouse notes, has our back. I actually felt that.
Today's presentations were given over two to Bhutanese teachers. The first was Khenpo Sangay Wangdi. Khenpo is a the highest academic/spiritual title given in Bhutan. The Khenpo is the former Principal of the Ngagyur Nyingma University at the Namdroling Monastery. He presented on the Four Noble Truths. He engaged us with a boatload of information, presented clearly and with humor. I felt both informed and challenged. It was an honor to sit at his feet (okay, figuratively) for most of the morning.
In the afternoon our second was Lama Yeshe Dorji. The lama is also a Tulku, and known as a social justice advocate, especially interested in animal rights. He was charged with presenting on the tonglen practice. It was clear from the beginning that he felt the practice is too often used without proper foundations and was determined we were going to get those foundation. He spoke rapidly and covered, frankly, way too much territory for the time we had. I fear his hope for us was frustrated by the rushing torrent of information he presented.
That said, I came away with perhaps something more important than a basic introduction to tonglen. That was a caution about lifting practices outside of larger contexts of spiritual discipline. Perhaps the lama's real gift to us, if we were willing to listen. Certainly, something all of us engaged in the great quest should hear.
That said for a simple introduction to tonglen, by an authentic master of the way, here you go.
After that it was time to return to the hotel.
Me, glad for the day…