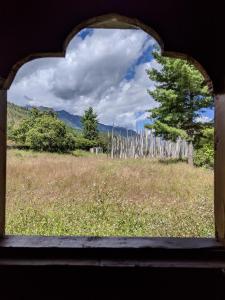 Today was a midpoint in the seminar/retreat part of our pilgrimage.
I have decided that while we are a tour group, pilgrimage is the better term. At least for some of us. And that's always the case, isn't it? Any group is a mixed bag. We are each of us on our own journey here. And, me, and, I genuinely believe, a number of us are on a pilgrimage. More on this after a brief description of the day.
We launched the day watching a video about the remarkable Tibetan exile and Nyngmapa master Dilgo Khyentse.
The morning was individually driven. Some of us went up to the monastery to meditate, others to hike on the trails behind the campus. And, I joined the little band that went into the city. I have a serious tourist objective and that's to get a monk's bag like one that two of our gang purchased earlier in Thimphu.
Walking around the town was worth the experience. Even though I failed in the primary "goal." Bhutan is such an interesting place. Leaping into modernity but trying desperately to do it wisely. Construction is going on everywhere. And the Main Street is clearly driven by tourist trade.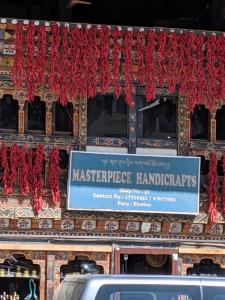 And mixed in with cheap baubles mostly from India, and home goods, some of astonishing beauty, is the real life of the community going on, struggling, and sometimes thriving. We were off loaded in a parking area in front of Chencho Handicrafts. Not a cooperative, but focused on supporting the local community. The prices are higher, but the quality of the work shows why. From there we wandered a bit down the Main Street. Several stores had bundles of red peppers hanging, reminding me of the American Southwest Well, just a little. After which we returned to the parking area, a number of us, yes including me enjoying a first rate cuppa at the Book Cafe.
There two things. First it was a small delight to see Michelle Obama's face. Walking up closer I see they'd set a copy of her memoir, Becoming. In a time where American prestige abroad is in shreds, there are things about us that people around the world admire. She appears to be one of our stronger points of appreciation. The other was a book that my new friend Penelope had found.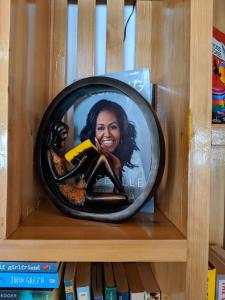 It was a nicely produced local book essentially collecting Chablop Passang Tshering's blog entries. It is very good. And later I looked to find his blog. I also found his book can be ordered by way of Amazon. I encourage anyone interested in life in Bhutan to look at his blog and to purchase his book.
After which we were picked up and headed out to the monastery, where we had lunch, and then David Roadhouse and I each made presentations.
For me this is where I'm forced to reflect and to share from the deepest places of my heart. I was aware I wasn't meeting everyone's needs.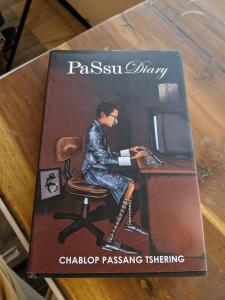 But, I found most seemed to resonate as I spoke a little of my appreciation as well as challenges here in a Buddhist country where the Buddhism is so, so different than mine. But, the context, through a Bhutanese window, allowed me to look and to share.  Mostly I shared my own process of clarification as an invitation with the gang as an example of one kind of Buddhism, and, I hope as an invitation.
While I know my Buddhism and Zen falls into the modernist camp, mine includes a full on living into the mysteries that the way opens for us. Using retellings of two koans, the Fox koan and Quanyin's Hands, I found myself confessing my life today. For me it turns on my understanding of the three bodies of the Buddha, particularly as has been revealed through the Zen path with special focus on koan introspection. So much of my practice has been digging deep into what the boundless really is as a lived experience. From there a rediscovery of this world of attachments, of rising and falling, of love and loss. And, then, how for me increasingly the world is a place riddled with dream and mystery. I explained a little my current obsession with the term I lifted from the literary world, magical realism.
I hope it was helpful to people at the many places each were at in their lives.
From there we returned to our hotel and dinner.
For me from that writing to my spouse, whom I'm missing terribly, and reading a another Father Brown story, and then lights out…