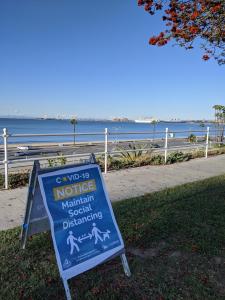 Here in Long Beach we are currently under a "safer at home" directive, which is similar to "shelter in place," but a tad less draconian. For us the most important point is that it means in addition to the purely necessary such as shopping, it is okay to take walks, assuming the precautions we're almost all familiar with are taken. Our beach and parks are closed. But there is still the neighborhood.
Jan & I try to take a daily walk. It feels pretty important. We have been pausing at a local coffee house while I picked up a latte. As much as it pains me to not be supporting them with my small purchase, and the pleasure of sipping it while strolling along, as of this walk I have decided to forgo that mix of human interaction until this passes.
(Reminding me of that semi-Buddhist saying: Everything passes. It may pass like a kidney stone. But it will pass…)
This walk had a couple of distinctive features. About a block and a half into it there was a woman sitting on a curb, a packed full personal shopping cart. She was talking quietly to herself. With Jan's nod I walked over and handed her some money. I'm embarrassed that I folded the bill, creased it, and handed it from one end in order to minimize the possibility of physical contact. But I did. She turned her attention to us and, well, it was word salad. The content had something to do with her daughter and a need for a lawyer. But the message really was confusion and anxiety. We stood for a minute until she took a breath and we said we had to go and goodbye. We turned and continued our walk as she turned to her inner conversation.
I am haunted by the lost and the left behind. And she certainly was one of those. These days my heart is fractured, basically held together by cellophane tape. And these encounters simply add more fracture lines. I'm so glad that we're okay, Jan & me. For now, anyway. The truth is we have a few layers between us and something as hard as the streets. But for this poor woman. And for so many…
Fractures. Cracks. Guilt. Shame. Gratitude. Thinking thoughts of luck of the draw. Some good decisions. And luck.
As we rounded the corner that we normally turn, across the street from our local coffee house, sitting flat on the sidewalk with her legs splayed in front of her another older woman was sorting through things unpacked from her cart. She also was having a conversation with herself or beings too distant for me to make out.
We were out of loose cash, and simply continued our walk.
At the corner of Broadway a public trash container was knocked over into the street. I thought perhaps a street person caught in the miasma of despair that seems to be part and parcel of being homeless accentuated by whatever they perceive as happening right now acting out in a small gesture of violence. Jan thought it as likely youths.
As we walked past the park our local parrots were in full frolic. And looking up at the skies, so blue after a while overcast and grey. Two, maybe it was three puffy clouds floating high above us. The smells of Long Beach near the beach were a wafting perfume, defusing for a moment the miasma of not exactly quiet desperation we'd encountered.<
Most of the rest of the walk was only mildly remarkable. People walking their dogs. Smiles and wide births all around. And the new phrases "take care," and "stay safe."
As the broad trail we often follow brought us back to our street we saw a street sweeper drive by. Several people were standing around watching. It wasn't clear if they were continuing the announced moratorium on fines for people who don't move their cars ahead of the street sweeper. We chatted with one woman about whether the moratorium was continuing. No one knew for sure.
We walked past a man leaning over, although still some steps away from a car, talking to the driver. I could hear him say yesterday was his last day of work.
I thought of the great Jewish Zen poet and songwriter Leonard Cohen.
And that line.
There's a crack in everything.
And how he says that's how the light gets in.
He echoes many. One I think of is Rumi who tells us the wound is the place where the light enters you.
I recall the parrots flying high above. The blue sky. that poor woman and her word salad.
I think of all of us, and even while thinking, where is the light, realizing I was bathed in it…
No panacea. The cracks are still cracks. Suffering is still suffering. And there is dark as well as light.
But. Out of this play of life and suffering some tendrils of intimate connection twine around me. Holding. Supporting.
Pushing me forward…