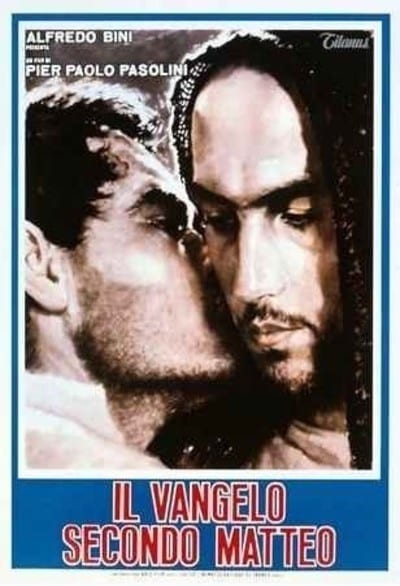 I am currently teaching a survey of the Abrahamic religious texts for a Buddhist chaplaincy program at the University of the West. This has been a powerful exercise for me. On the one hand it has been a deep-ish dive into the spiritual texts of my childhood, which I'd last considered seriously during my seminary days now going on well past a quarter of a century ago. And, it was my charge to leave my largely Chinese and Chinese descent and entirely Buddhist class with a sympathetic sense of the spiritual arc of each of the Abrahamic traditions.
We are now in the middle of an appreciation of the Christian New Testament.
And, from just about when I started outlining what I could bring to the students that would be helpful, I'd wanted to screen for them Pier Paolo Pasolini's 1964 masterwork, the Gospel According to St Matthew.
The fact that it was made by a nonbeliever, but one steeped in the tradition, and who was unabashedly wanting to respect the subject, brought everything I would want for my students. It has also been decades since I'd seen the movie. I have now seen it twice this week. First to make sure it really was suitable for the class, And then one more time to be able to discuss it at better depth. And, yes, it is a wonderful film and does exactly what I hoped and recalled it did.
Actually, probably its better than I remembered.
The film stands broadly within the Italian school of neo-realism. There are several inside jokes, he casts some prominent intellectuals of his day as well as his mother who plays Jesus' mother in her old age. Jesus is played by a Spanish 19-year old economics student and communist activist. Among the many faces that capture the heart I remain haunted by the young Mary played by Margherita Caruso, and the angel played by Rosana di Rocco.
The Wikipedia article on the film tells us "The score of the film is elecletic, ranging from Johann Sebastian Bach… to Odetta … to Blind Willie Johnson… to the Jewish ceremonial declaration "Kol Nidre" and the "Goria" the Congolese Missa Luba.. Pasolini stated that all of the film's music was of a sacred or religious nature from all parts of the world and multiple cultures or belief systems."
As Wikipedia tells us Pasolini chose Matthew because he found "John was too mystical, Mark too vulgar, and Luke too sentimental." I might argue his points, but. What it became is a faithful adaptation of the gospel without reference to the other gospels. All the dialogue is taken directly from the single Gospel. At the same time, he felt it needed to be told from the perspective of our times and so is very much inspired b the Southern Italy of his life. Costuming is a hodgepodge drawn from various eras.
Pasolini called it a "life of Christ plus 2,000 years of storytelling about the life of Christ." I found cumulative effect is something akin to what I'd have to call magical realism. Not precisely in the sense of the Latin American literary school, but more literally, realism seen through the eyes of wonder.
And that's what we get here. The Christian story mostly as ordinary as ordinary, about the poor and the rich, about suffering, and hope. And then that leap into the dream world.
Suddenly, everything is holy.
Rotten Tomatoes, my favorite review aggregator, has 91% of professional reviewers recommending it. Wikipedia "In 2015, the Vatican City newspaper L'Osservatore Romanno called it the best film on Christ ever made." Many lists count it among the 100 best films ever made. And wherever on such a hypothetical, it is certainly a serious and compelling film.
I think I've served my students well by screening it for them. And, it helped me in my constant path of clarification.
if you've never seen it. Well. Here's your chance.