Well, it's official.
The webpage for the First Unitarian Church of Los Angeles announces to the world:
"While the First Unitarian Church of Los Angeles is a lay led congregation, we value the wisdom of elders, and have engaged the Reverend James Ishmael Ford and Dr. Ignacio Castuera as our consulting ministers. They bring with them knowledge and experience in several different religious traditions. They each take the pulpit once a month and assist the smooth flow of church life in various ways. We are proud they have chosen to throw their lot in with us in their very active retirements."
They go on to provide flattering bio blurbs.
***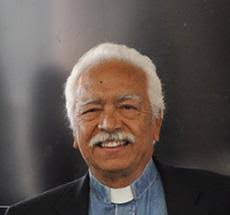 The Reverend Dr Ignacio Castuera is a renowned social justice activist and United Methodist minister. He was born and raised in Puebla, Mexico, coming to the United States to attend California State University at Long Beach. He later earned both a masters and doctorate at Claremont School of Theology. Ignacio served congregations in Mexico, Hawaii, and California, including eleven years at the Hollywood United Methodist Church. He was also the first Mexican-American to serve as a district superintendent in Los Angeles. He is editor of Dreams on Fire: Embers of Hope: From the Pulpits of Los Angeles After the Riots, which was one of the top ten religious books of 1992. Ignacio served as national chaplain for Planned Parenthood for six years and later on the board of directors and Southern California advisory board for the nation's leading end-of-life choice organization, Compassion & Choices. He is the proud father of three daughters and one son. Ignacio lives in Claremont.
The Reverend James Ishmael Ford has walked the spiritual path for more than fifty years. He has danced with Sufis, studied with Gnostics, lived in a Buddhist monastery and was ordained a Zen priest. Later he also ordained as a Unitarian Universalist minister and preached in Wisconsin, Arizona, and from the high pulpits in old New England churches. Eventually serving as a UU parish minister for a quarter of a century. He is minister-emeritus of the First Unitarian Church of Providence. James has written five books about spirituality focused mostly on the Zen traditions. And at the same time has worked in the trenches for social justice. Today he serves as guiding teacher for the Empty Moon Zen Network. He lives in Long Beach with his spouse, Jan Seymour-Ford, a retired librarian and very much not retired social justice activist, and Cassie, their three-legged cat.
***
The large majority of my energies continue to be focused on the Empty Moon Zen project. And my commitment, like Dr Castuera's is quarter time. I expect "generous" quarter time, but in that ball park.
I cannot say how excited I am at the possibilities of being of use to this historic and at the same time young community and its lay led vision. This includes the honor of working with Dr Castuera.
While this includes the sadness of drawing my ministry with the Unitarian Universalist Church of Anaheim to a close, I am very exited by the opportunities of supporting this small but dynamic congregation, mostly consisting of millennials together with a generous sprinkling of elders as its creates its home within the historic walls of the First Unitarian Church of Los Angeles.
It's history is rich.
First Unitarian was founded in 1877 by the remarkable Caroline Severance and others.
If you're unfamiliar with Severance, let me introduce you by way of Wikipedia:
"Caroline Severance was born Caroline Seymour in 1820 in New York. She married Theodoric Severance and moved to Cleveland, Ohio in 1840. She and her family left the First Presbyterian Church when it would not take a strong stance against slavery, and became interested in Unitarianism. In 1850 she became involved in the woman's rights movement and presided over several meetings in Ohio and met the leaders of the eastern woman's movement around this time including Susan B. Anthony and Elizabeth Cady Stanton. In 1855 the family moved to Boston. Here she founded the New England Woman's Club, and became a member of Theodore Parker's congregation. She helped found the Free Religious Association after Parker's death. Together with Lucy Stone and other New England suffragists she founded the American Woman Suffrage Association in 1869. In 1875 she and her husband moved to Los Angeles, following two of their sons. In Los Angeles in 1877 Caroline and Theodoric founded the Church of the Unity in their living room, which became the First Unitarian Church of Los Angeles. In 1891 she also founded the Friday Morning Club a woman's club. She worked on numerous civic and social justice causes such as woman's suffrage and the establishment of kindergartens. In 1911, women received the right to vote in the state of California, Caroline Severance registered to vote October 18, 1911 and voted in the Presidential election in 1912. She died in Los Angeles in 1914 and is buried in the Angelus-Rosedale Cemetery."
I think it fair to assert the spirit of this amazing woman continues a vital thread from her life to ours.
The current building was constructed in 1927 and is constructed of poured concrete in the Renaissance Revival style.
It sits on 8th street between Vermont and Westmoreland, in the middle of what is now Korea Town. While the congregation is predominantly, although by no means exclusively Anglo (wildly diverse within that group, including a substantial LGBTQI membership), it is determined to be a place of service and partnership with the community.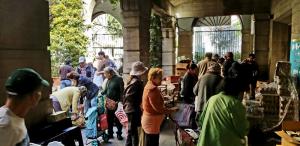 As the church writes about itself, "Today First Unitarian continues to be one of Los Angeles's most famous progressive churches.  Its members are involved in contemporary progressive movements including Black Lives Matter, immigration rights groups, and human rights organizations.  Our affiliated organization, Urban Partners Los Angeles, provides a number of programs in the neighborhood including the distribution of groceries to families in need."
In addition a wide spiritual net is thrown. A Methodist minister and a Zen priest and Unitarian Universalist minister consulting with the youthful lay leadership speaks volumes…
You ca learn more about the church's history by visiting the First Unitarian Church of Los Angeles Wikipedia Page.
And you can learn more about it today and where it is going by visiting.
I am so honored to be able to work with them.
And, feel free to join us some Sunday. Zoom has made a lot of boundaries meaningless…
(The video of this Zen Buddhist chant "Gate of Sweet Nectar" arranged by a Hindu kirtan master and presented by the congregation of Guilford Church, UCC, feels rather appropriate to the sprit of the First Unitarian Church of Los Angeles…)