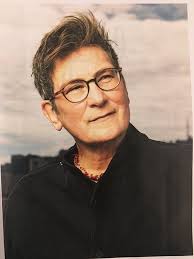 Kathryn Dawn Lang was born on this day, the 2nd of November, in 1961.
Probably she's better known to us as k.d. lang.
An award winning vocalist, said to have the range of mezzo-soprano, she is also a Buddhist, and did one of my favorite covers of Leonard Cohen's Hallelujah.
I appreciate the excuse to share that song today.
Hard times, as you may have noticed.
It seems to me people sometimes misunderstand the song, thinking its about sex. Sex is there. But it stands in part for our humanity. Our broken humanity. And its stands in greater part as the expression of gratitude for this life. As it is. As we are. A life that needs a lot of work. And with wounds that never heal. All of this shared, as the song goes, before the lord of song.
People ask about awakening.
Listen to this song, and I think you'll find a pointer…