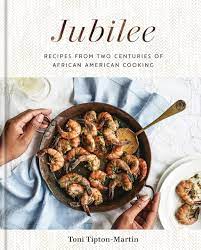 The other day Jan & I made a soup. Mostly collard greens and chopped up andouille sausage. And magic cornmeal dumplings.
The creator, or more properly co-creator of the recipe, Aaron Hutcherson freely acknowledges a serious debt to Toni Tipton-Martin, and specifically to a recipe in Jubilee: Recipes from Two Centuries of African American Cooking: A Cookbook for this collard green soup with cornmeal dumplings. Tipton-Martin herself calls this recipe "a totemic soul food dish," while the headline writer for Hutcherson's modified recipe at the WaPo says "full of smoke, spice, and soul."
To which I say amen.
If you want a taste of heaven with just a dash of hell's heat, have I got something for you…
Or, Tipton-Martin & Hutcherson do. Although I have a couple of modest suggestions along the way. And that follows. But, for a link to Hutcherson's recipe, it first appeared at The Washington Post. His accompanying reflections are really worth reading. And I encourage you to visit the master…
But cutting to the chase for those who're most about eating…
Collard Green & Andouille Sausage Soup with Cornmeal Dumplings
For the Soup
2 tablespoons extra virgin olive oil
12 to 16 ounces of andouille sausage. Chopped. (We used Trader Joe's Chicken Andouille, and recommend it with a fairly serious caveat: it has a lot of salt along with lots of heat and flavor)
1 bunch of collard greens. Sliced into 1/4 inch ribbons
1 smallish yellow onion, Sliced
1 teaspoon smoked paprika
1/2 teaspoon of garlic powder (We like our garlic, so I minced two cloves of fresh garlic)
1/2 teaspoon of fresh ground black pepper
(the recipe suggests 1/2 teaspoon salt. If you use the Trader Joe chicken andouille, I wouldn't. For that matter with any sausage, you're probably getting enough sodium. And, you know, you can add more in later...)
1/4 teaspoon of red pepper (Okay, we used just shy of a half teaspoon of Flatiron red peppers. Maybe just a tad too much. But, maybe not…)
4 cups unsalted chicken stock
1 14.5 ounce can diced tomatoes, fire roasted is encouraged
1 cup water (I did 1/2 cup water, 1/2 cup white wine, just 'cause…)
For the Dumplings
3/4 cup cornmeal
1/4 cup all-purpose flour
1 teaspoon sugar (Jan made the dumplings, and she hesitated. But, she decided to go with Hutcherson's recommendation. And, he was right.)
1/2 teaspoon baking powered
1/2 teaspoon kosher salt (we did use the salt here)
1 tablespoon extra virgin olive oil
Steps
For the Soup
A dutch oven or other large pot. Medium high heat.
Add olive oil, wait 'till shimmering.
The recipe calls for adding the sausage and browning. As the TJ andoule is precooked, I sautéed the onions (lowering the heat and stirring until the onions were soft and just, just showing some brown. Threw in the garlic and the chopped andouille, turned up the heat and cooked a bit. Add in the smoked paprika, black pepper, red pepper flakes, stirring until mixed. Add in the collard greens, stirring 'till mixed. I needed to add maybe a tablespoon of white wine to capture the fond as it was forming. Stir until the collard greens begin to soften.
Add in the tomatoes and stir all together. Add in the chicken stock and water/wine mix.
Bring to a simmer, cover, cook stirring occasionally. We cooked it for about forty-five minutes, Hutcherson warns it could be longer.
For the Dumplings
After the soup has settled a bit, pour off 1/2 cup of the potlikerr, and set aside.
Mix the dry parts: cornmeal, flour, sugar, baking powder and salt: Stirr well. The whisk in the potlikker and olive oil, Stirr until fully combined.
Jan used a dinner spoon to scoop out generous dollops, dropping them into the soup, trying to keep them an inch apart.
Let cook for another ten minutes or so.
Eat.
A word of caution:
Our eyes watered as we ate, and we agreed we would not be making this for mom. For me this was a three tissue paper soup.
And, oh my. Heaven with just enough of hell's heat.
Happy, happy!
Lunch the next day was, if it is possible, slightly better…
And a footnote for my vegan and vegetarian friends. First, it looks like Tipton-Martin's recipe is mighty close. Certainly the original called for no dead animal meat. For the broth, just use vegetable stock.
I also encourage you to explore the two creators of this dish.
First, welcome to Arron Hutcherson's world:
And, allow me to introduce you, if you do not already know her, to Toni Tipton-Martin:
You are welcome!