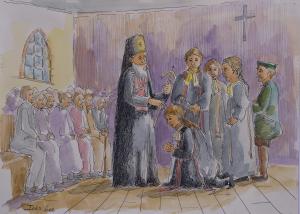 In Facebook land I found myself drawn into a conversation about the foundations of the Methodist church.
It's one of those historical tidbits that I find as tempting as much as a cat catching a wiff of catnip. As it happens there is a controversy over whether the Methodist founder John Wesley sought, or perhaps even obtained the "historic" episcopacy for his mission.
The known facts are these: the monk Gerasimos Avlonites, Bishop Erasmus of the Greek diocese of Arcadia, Crete, was caught up in a civil war between Greek and Ottomans, and was driven into exile in 1739. The bishop went on to establish an Orthodox mission in Amsterdam.
He then visited London in 1763. And while there Bishop Erasmus met John Wesley.
What happened out of those meetings has sparked endless questions. They range from not much at all, to the bishop ordained some priests for Wesley's mission, including "John Jones, Samson Staniforth, Thomas Bryant, Alexander Mather, and (unnamed) others," to flat out asserting among those ordinations the bishop also consecrated Wesley a bishop.
The ordinations seem credible and almost certainly happened. The consecration is in serious doubt. However, we do have a picture of the event, and there's that. Well, except it was painted in the twenty-first century. But, you know, details…
If he did succeed, but it was sub rosa, pretty much moots the whole thing, to my mind. Secret consecrations are no better than no consecrations for anyone except the recipient of the honor. After all this is as much a communal thing as a private affair. This is why in those churches claiming apostolic succession, multiple consecrators are expected and in some jurisdictions, required.
But if it happened and had been published to the world, it opens the imaginative doors of what if. What if his church could and did claim to stand in that tradition with the various Catholic, Anglican, Orthodox, and (some) Lutherans?
What exactly would come of this? Nothing? Something? A whole lot of something? Hard to say.
And. I searched YouTube for an clip of the ordination/commissioning/consecration of a Methodist bishop to discover the video from Africa I show below.
So, whatever else, there's that…
All intriguing, the stuff of long conversations among the theologically and ecclesiastically minded, probably involving several glasses wine…