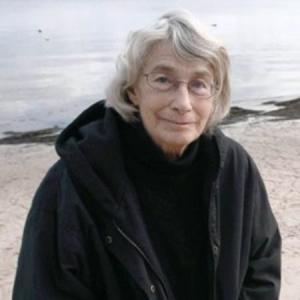 You do not have to be good.
You do not have to walk on your knees
For a hundred miles through the desert, repenting.
You only have to let the soft animal of your body
love what it loves.
Tell me about despair, yours, and I will tell you mine.
Meanwhile the world goes on.
Meanwhile the sun and the clear pebbles of the rain
are moving across the landscapes,
over the prairies and the deep trees,
the mountains and the rivers.
Meanwhile the wild geese, high in the clean blue air,
are heading home again.
Whoever you are, no matter how lonely,
the world offers itself to your imagination,
calls to you like the wild geese, harsh and exciting —
over and over announcing your place
in the family of things.
The American poet Mary Oliver was born on this day, the 10th of September, in 1935. She died on the 17th of January, 2019 in Hobe Sound, Florida.
She was born in Maple Heights, a suburb of Cleveland. Oliver is said to have started writing poetry at fourteen. She went on to study at Ohio State and Vassar, but left without a degree. Her passion was writing. She was twenty-eight when her first collection of poems, No voyage and Other Poems was published to critical acclaim. Her fifth collection American Primative was awarded the Pulitzer Prize. And her New and Selected Poems won the National Book Award.
Oliver and her partner the photographer, bookseller, and gallery owner Molly Malone Cook lived largely in Provincetown, Massachusetts for some forty years, continuing there until Cook's death in 2005. After which Oliver relocated to Florida.
Oliver is often compared to Emily Dickinson. Reading her we can see why. And of course, there's much more to her than that similarity of sparse spirit. The article about Oliver in Wikipedia summarizes how
"Her poetry combines dark introspection with joyous release. Although she has been criticized for writing poetry that assumes a dangerously close relationship of women with nature, she finds the self is only strengthened through an immersion with nature. Oliver is also known for her unadorned language and accessible themes. The Harvard Review describes her work as an antidote to 'inattention and the baroque conventions of our social and professional lives. She is a poet of wisdom and generosity whose vision allows us to look intimately at a world not of our making.'"
Oliver has been particularly fashionable within my Unitarian Universalist circles. And so, of course, in good time there have been those who have criticized her work. Several of these criticisms describe her focus as too small and inoffensive. While others criticized her close identification of women and nature as, well, too close. I would only agree that perhaps too many of our preachers seem to think she and maybe Rumi are the only poets we are allowed to quote.
But then you read something like her Summer Day, and you can see why…
Who made the world?
Who made the swan, and the black bear?
Who made the grasshopper?
this grasshopper, I mean—
the one who has flung herself out of the grass,
the one who is eating sugar out of my hand,
who is moving her jaws back and forth instead of up and down—
who is gazing around with her enormous and complicated eyes.
Now she lifts her pale forearms and thoroughly washes her face.
Now she snaps her wings open, and floats away.
I don't know exactly what a prayer is.
I do know how to pay attention, how to fall down
into the grass, how to kneel down in the grass,
how to be idle and blessed, how to stroll through the fields,
which is what I have been doing all day.
Tell me, what else should I have done?
Doesn't everything die at last, and too soon?
Tell me, what is it you plan to do
with your one wild and precious life?
At her death Josh Jones summed up a lot, when he wrote of her:
"The word 'earnest' comes up often as faint praise in reviews of Oliver's poetry (Garner tidily sums up her work as 'earnest poems about nature'). The implication is that her poems are slight, simple, unrefined. This perhaps inevitably happens to accessible poets who become famous in life, but it is also a serious misreading. Oliver's work is full of paradoxes, ambiguities, and the hard wisdom of a mature moral vision. She is 'among the few American poets,' critic Alicia Ostriker writes, 'who can describe and transmit ecstasy, while retaining a practical awareness of the world as one of predators and prey.' In her work, she faces suffering with 'cold, sharp eyes,' confronting 'steadily,' Ostriker goes on, 'what she cannot change.'"
That said, me, I've found her a deeply important voice pointing to many truths that mark the best of our contemporary Western spiritualities. I think of her as a true heir to the Transcendentalists, carrying forward the best of that mixed bag, offering a subtle yet compelling nature mysticism.
And with that I gift you all with this, the tag end of Mary Oliver's In Blackwater Woods.
It is not too much to say it is close to the sum total of my spiritual life. Just about all of it. Nearly the whole thing.
Look, the trees are turning
their own bodies into pillars
of light,
are giving off the rich fragrance of cinnamon and fulfillment,
the long tapers
of cattails
are bursting and floating away over the blue shoulders
of the ponds,
and every pond,
no matter what its
name is, is
nameless now.
Every year
everything
I have ever learned
in my lifetime
leads back to this: the fires and the black river of loss whose other side
is salvation,
whose meaning
none of us will ever know. To live in this world
you must be able
to do three things:
to love what is mortal;
to hold it
against your bones knowing
your own life depends on it;
and, when the time comes to let it go,
to let it go.
Thank you, Mary!
You've given voice to my heart. You made me a better student of Zen and a better person.
Endless bows…