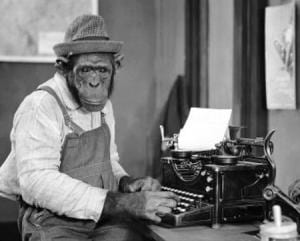 Fifteen years
In 2006, as I was getting ready to take off on my first (and it would turn out to be only) sabbatical I was advised by an elder colleague that it would be wise to keep in touch with the gang back home. You know, the people who are paying me to do this. Most of whom will never get a sabbatical of their own in their lives.
Another, younger colleague suggested trying a blog. "You like to write," she noted.
I'd read a few blogs. I'd joined Facebook. I was hardly an early adaptor, but I was experiencing the benefits of social media. And so I decided to go for it.
I found a free blogging program, Blogger. Then I named the project for my church newsletter column, "Monkey Mind," which itself was inspired by the Buddhist image for our ordinary minds flitting from this to that.
And on the 5th of September, 2006, as I noted, fifteen years ago, I launched.
I've missed the actual anniversary by the better part of a week. But, enough time to pause and to wonder.
That very first posting was simply a favorite poem from Gary Snyder.
Lew Welch jut turned up one day,
live as you and me. "Damn, Lew" I said,
"you didn't shoot yourself after all."
"Yes I did" he said,
and even then I felt the tingling down my back.
"Yes you did, too" I said — "I can feel it now."
"Yeah" he said,
"There's a basic fear between your world and
mine. I don't know why.
What I came to say was,
teach the children about the cycle.
The life cycles. All the other cycles.
That's what it's all about, and it's all forgot."
I credited as by Gary Snyder and from his Axe Handles. I also noted the standard publication information: San Francisco, North Point Press, 1983: p 7. And that was it. I didn't figure out how to add images for a couple of months. And then months after that to add in a video clip.
That same day I threw up two more postings. The second a story from Thomas Merton's retelling of selected anecdotes from the Verba Senorum, The Wisdom of the Desert: Some Sayings of the Desert Fathers. The third posting was a poem by the Unitarian Universalist poet Lynn Ungar, from her anthology Blessing the Bread. The next day I posted a quote from Joan Halifax's A Buddhist Life in America: Simplicity in the Complex.
Finally, on the 7th of September, I offered my first posting of my own thoughts. I outlined the reason for starting the blog up. I envisioned it as part day book, part ruminations on religion, a dash of opining about politics, and some observations about culture.
The "Easily Distracted" motto would come later. But, clearly, the this and that was from the beginning.
Then in that first full reflection fifteen years ago, I turned to what was weighing on my heart.
I wrote: "For me much of my thinking about this sabbatical has been about new things, new birth, new possibilities. But as I actually begin this sabbatical I find myself sent off surrounded by death. A week before my sabbatical began the mother of one of the Society's members died and I found myself focused on that. Then right after I delivered my concluding sermon before taking off on sabbatical I learned one of our longtime members had died.
"So, my actual taking off has actually been delayed a few days while I attend to that matter. As I've learned so long ago, in these matters, death trumps. Also in the background of my consciousness the husband of one of my spouse's co-workers who shared an interest in Buddhism unexpectedly died a few days ago while at the gym. As he and I were of an age and we were both, how can I say this, big guys; this similarity has not gone unnoticed by my spouse and friends, or me. And right behind that an old friend who is also in my age cohort, although with vastly healthier life-style was just telling me about the unexpected diagnosis that might have fatal consequences down the line."
I digressed a bit, as is my wont. Then I got to the matter as it was capturing me in that moment.
"There are those who have a friend drop dead, or find themselves undergoing a brush with fatality and ask 'what lesson is the universe trying to teach me?' This is, of course, a profoundly silly and narcissistic view. Other people don't die so I can get a lesson. The universe is vastly larger and more complex than that thought allows. Those who say otherwise don't know what they're talking about.
"But, there is something here, a matter of respect. If a friend dies, if we find ourselves reminded of our mortality and the passingness of life by someone else's tragedy, noticing and not turning away, looking for what I can learn becomes a matter of respect. We accept the lesson as it presents without attributing a self-centered meaning on the complex matters of the universe, the waves and cross currents of a multicausal, multivalent, multiverse. So big, so mysterious, so curious. When we're on our game, the response is well shut my mouth: and just be. Present.
"It's astonishing what births out of that shut-my-mouth-present. So, out of respect, out of gratitude, out of wonder, I'm trying to hear the whispers of the cosmos as I embark on my grand adventure."
As I am currently working on what I hope will be my sixth book, I see my heart continues to return to these questions and observations. The main difference is the angle with which I engage them, each time, a tad older, if not much wiser.
From there, the blog continued.
I left that church I'd served for eight years.
I served another for seven. The First Unitarian Church of Providence. Loved them more than any other church I'd served.
It was time and I retired.
With this, I resigned leadership in the New England based Boundless Way network, and followed my spouse to Southern California, where she could be closer to her aging mother. We bought a little condo in the Alamitos Beach neighborhood of Long Beach.
After I announced my retirement but before we left, my auntie who lived with us for twenty-three years, died. While she never got to occupy it, we still call the second bedroom, Auntie's room.
I did a summer ministry. I took an interim. I retired again.
I took up a very part time consulting ministry in Anaheim.
I took up an invitation to consult with another church that, the First Unitarian Church of Los Angeles, where I am now.
Jan and I have joined with a couple of other communities in a small network of like-minded Zen communities. We call ourselves the Empty Moon Zen.
Stuff. And changes. And common threads. It reminds me of Alice commenting "I knew who I was this morning, but I've changed a few times since then." My only critique is that we probably don't know ourselves all that well in the morning. But that change thing. Yes. And, yes, again.
Still, there are threads that run through our lives. I see some at the beginning of this blogging life. Some citations from teachers I know mostly from their writings. A spiritual practice: sitting down, shutting up, paying attention that continues to inform the multifaceted changes that are my life. I think about death. And life. And cycles. And, well, the stuff of our human existence.
This blog has served me well as a mirror into my own heart. I'm so grateful.
I am also so grateful my reflections and rumination have proven to be of interest to people.
I looked, as of this moment, thirteen years and four days out, I've posted 4,808 times. This will add one more to the total.
Somewhere along the line I was picked up by a religious portal, Patheos, and left Blogger. I've somehow along the way become, how best to describe it, a semi-professional. I've never bothered to set up a means for counting my visits. But, "professional" at least in the since I earn enough to take Jan out to dinner once or twice a month, depending.
So, in the moment. Pretty good. Jan & I love our little condo and our three-legged cat companion Cassie. We live in a wonderful walk around neighborhood in Long Beach, California.
And, I continue to write. The first decade or so I was very regular, averaging about one posting a day. I fell into a bit of a slump for a couple of years. Although even then I seem to be putting something up about once a week.
In the moment I seem to have reclaimed a more productive rhythm. But, of course, who knows? Time only will tell…
Whatever, I'm grateful for the opportunity to write. And, equally, I'm grateful for all of you who've taken an interest in my reflections along the way.
So grateful! So grateful…