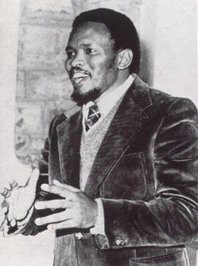 Today, in Tarkastad, Eastern Cape, South Africa, the 18th of December, 1946, Bantu Stephen Biko was born.
He would become one of the heroes of the anti apartheid movement, a leader of the Black Consciousness Movement.
In 1977 he was arrested and then beaten to death by state security officers.
Tributes, images, and songs began to appear around the world. Among these, Peter Gabriel's tribute, Biko, was released in 1980. It, like all the others, songs and images, was immediately banned by the South African authorities.
But.
Biko famously said "It is better to die for an idea that will live, than to live for an idea that will die." In death he became a symbol not only of the tyranny of the South African Apartheid government, but of human dignity, and possibilities.
That government is gone.
Steve Biko is remembered…