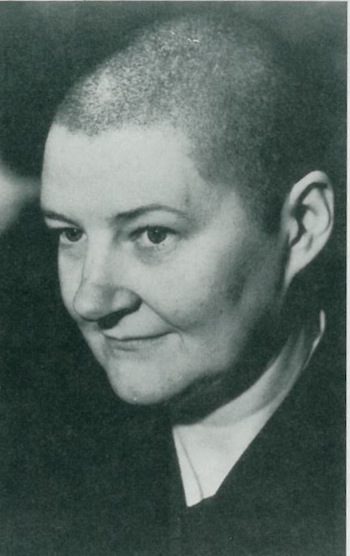 Peggy Teresa Nancy Kennett was born at St Leonards-on-Sea, Sussex, England, on this day, the 1st of January, in 1924.
Houn Jiyu Kennett was the first women Soto Zen master to teach in the West. Her teaching career also opens questions of orthodoxy and authority that begin to define the outer limits of what might be described as traditional Zen. She is the lineage source for Shasta Abbey, Throssel Hole Abbey, and the Order of Buddhist Contemplatives. Breaks from her organization are the source for the priestly lineages at the Dharma Rain Zen Center, Bright Way Zen, Boundless Way Zen, the Buddhist Temple of Toledo, and Empty Moon Zen.
Peggy Theresa Nancy Kennett was born in 1924 in England. Her father, a tailor, was involved in the Theosophical Buddhism organized by Christmas Humphries at the London Buddhist Lodge. In the 1950s, as it moved in a more traditional Buddhist direction and out of this was renamed the London Buddhist Society, Peggy joined and eventually took on various leadership responsibilities.
During the war Peggy enlisted in the Royal Navy and worked for naval intelligence, assigned to coding and decoding. After the war she won a scholarship to Durham University and continued her training at Trinity College of Music in London studying medieval music. She supported herself primarily as a church organist. In addition to her connections to the London Buddhist Society, she studied at the London Buddhist Vihara, a Theravada Mission, and undertook a correspondence course of instruction through the Young Men's Buddhist Association in Ceylon.
In 1960 when Chisan Koho Zenji, abbot of Sojiji, traveled to the West and visited the London Buddhist Society, she coordinated his visit. He invited her to come to Japan. And, as soon as she could put her affairs in order, she did so.
For reasons that remain unclear, while on her way to Japan she received novice ordination—in January, 1962, while in Malaysia—from Seck Kim Seng, Linchi abbot of the Cheng Hoon Teng Temple in Malacca. However as soon as she arrived in Japan, she was formally received as a student by Chisan Koho, with whom she would go on to study extensively. However, since he was also concerned with the administration of a major temple and denominational affairs, in practice her primary teacher was often Suigan Yogo Roshi, one of Chisan Koho's senior associates who would also later become abbot of Sojiji.
Jiyu Kennett Roshi received Dharma transmission twice, from both Suigan Yogo Roshi and Chisan Koho Roshi. She was then installed as abbess of Unpukuji, in Mie Perfecture. I originally wrote for my biographical sketch of her life and teaching career in Zen Master Who, that in 1969 she was authorized to start a Zen center in London. This does not appear to be the case. She seems to have left Japan without informing the Soto denominational offices, or, it seems, her teachers. She came to California and the San Francisco Zen Center, deeply curious about their enormous success as a Western mission. She decided to stay in California rather than return to England. Speaking with a couple of her early Western students, I believe she thought she'd always be "Peggy" in the relatively small convert Buddhist community there. While her opportunities to expand her work as "Roshi Kennett" in California were wide open. Whatever her reasons, she started a small temple, and formed the Zen Mission Society, in an apartment in Mission Hill.
This was where I first studied with her. My memories of that time continue vividly—particularly of the intimacy of the tiny, new community. I recall, for instance, sitting with the roshi and several other young monastics on chairs and her bed, drinking lobsang suchong tea and watching "Dark Shadows," a campy vampire soap opera.
To be brutally honest, my memories of Jiyu Kennett Roshi as a teacher are mixed. She followed in the authoritarian style of her Japanese inheritance. And, I believe, the inclinations of her own personality. Interpersonally, she was remarkably invasive. In my twenties, she pushed me into a marriage with another student that would cause great unhappiness for both of us. On the other hand, she had genuine insight into the boundless realm and also pushed me toward my own deepest experience of the great matter.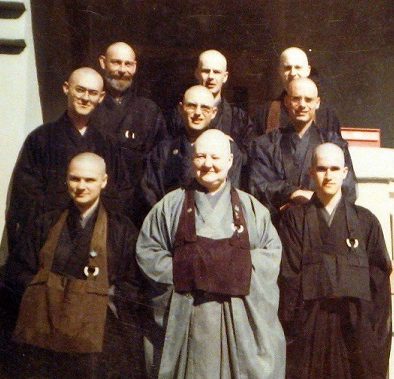 As with most matters in the actual world, she combined a brilliant mind, some authentic practice, and the complex needs of a human being formed out of hurt and hope. She was a complicated person, of course. With great wit, keen intellect, and a substantial dark side. Illustrating all three points, Kyogen Carlson recalls a time at the monastery when it seemed the typical monastic was
"(T)hin, pale, and wears glasses." One day one of the women (Roshi called us "she-monks" and "he-monks") returned after a stint at a branch temple. This was a woman of rather generous proportions, and when she entered Roshi's room, Roshi exclaimed "At last! Finally another woman around here with a decent set of jugs. We've had nothing but skin and bones around here lately."
While often capricious and occasionally even cruel, her real intent did usually seem to be opening the heartmind. As Carlson Roshi observes, "Many times I saw her skillfully push and channel the frustration in a disciple until he or she gave up the struggle itself and broke through to the universal view."
The Zen Mission Society first moved its temple from San Francisco to Oakland. Finally it established the monastic complex at Mount Shasta in far Northern California. It was at Mount Shasta that I was ordained osho and received Dharma transmission from her in 1971. I left the monastery not long after that. Today her organization, now called Shasta Abbey and the Order of Buddhist Contemplatives, has several branches around North America and Europe, with the majority in England.
Gradually her organization took a decidedly more monastic approach. This was well after she'd established a temple complex along traditional Japanese lines, where priests and monastics could be and often are married. Thus the shift to mandatory celibacy was very controversial and a number of priests either left or were expelled. The Oregon Priory, led by two of her married successors, Kyogen Carlson Roshi and Gyokuko Carlson Sensei, separated from Shasta Abbey at that time to form an independent succession. Their Dharma Rain Zen Center is now one of the larger Zen centers in North America.
Kennett Roshi was always controversial, for reasons small and large. She introduced a broadly "Anglican" style, which included substituting a form of Medieval Christian "plain chant" in liturgy; and, for several years, having clerics wear Western style priest's collars. Eventually the organ was included in standard liturgies.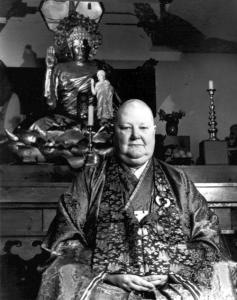 More significant controversies arose following a series of "visions" she experienced in the wake of a severe illness. From this she began offering teachings in significant ways at variance from mainstream Zen. This particularly included a complex scheme of stages of awakening and a pronounced theistic cast to some of her writings.
She died from complications due to diabetes in 1996. Since that time, the Order she established seems to have slowly moved back to a more normative Zen Buddhism. Institutionally, however, the community has been more interested in connecting with Chinese rather than Japanese Buddhism. Upon Kennett Roshi's death, leadership of the Order has been divided among several senior teachers.
Daishin Morgan—who was already serving as one of two Abbots of the Throssel Hole Buddhist Abbey in England—was joined by Eko Little as Abbot of Shasta Abbey. Later Eko Little was succeeded by Meian Elbert, who continues as abbot.  Daizui MacPhillamy was elected Head of the Order of Buddhist Contemplatives. Upon his death in 2003, he was succeeded as Head by Haryo Young, who continues in that position. Mark Daiji Strathern was the founding teacher at Throssel Hole, but became a casualty in the conflicts that arose with her visions, and Daishin Morgan became abbot. He was later succeeded by Leandra Robertshaw, who remains in that position.
In subsequent years after a period of growth the American branch hit a plateau, has begun to age, and contract. The English branch has been more successful, and today is the larger of the Zen communities in that country. 
Of the communities that continue her ordination lineage, the oldest continuing of these, Dharma Rain was led by Kyogen and Gyokuko Carlson. They led their community back fully into the mainstream of American Soto Zen. After Kyogen's death, Gyokuko continued as abbot for many years. She was succeeded by Kakumyo Lowe-Charde. Another of Gyokuko Roshi's successors Domyo Burk founded Bright Way Zen.
I continued my Zen training within the Harada Yasutani reformed koan curriculum. And the organizations I had a hand in forming all continue that aspect of Zen practice as central to formation, while transmitting Kennett Roshi's ordination lineage. These communities, Boundless Way Zen (which has in recent years split into several groups, the principal centered at the Worcester temple is led by Melissa Blacker and David Rynick), the Buddhist Temple of Toledo led by Jay Rinsen Weik and Karen Do'On Weik, and Empty Moon Zen led by me, all emphasize the possibilities of a full Zen life for both priests and householders.
As to Kennett Roshi. Whatever her faults, and like for me and everyone else I know, she had them in rich abundance, she was my ordination master, and a central guide for my formation as a person on the intimate way. Most of the hard parts of our relationship have receded into the gathered fragments of memory. The important parts, those aspects of our relationship that helped me become who I am, those are what I principally recall at this time. And for those, I remain endlessly grateful.
Happy birthday, Roshi! Endless bows…
(Substantial portions of this biographical sketch are derived from my book Zen Master Who? A Guide to the People and Stories of Zen (Wisdom Publications, Somerville, 2006)