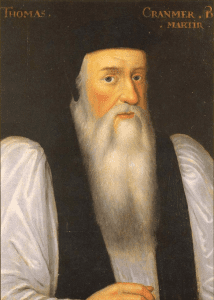 Thomas Cranmer, theologian, controversialist, one time Archbishop of Canterbury, was tied to a stake and burned to death on this day, the 21st of March, in 1556.
Cranmer, one time toady to a king, a priest and prelate, brilliant writer and complicated thinker, the principal architect of a reformed Catholicism in England. With the death of that king, under the new monarch he had been imprisoned for two years, tried and convicted of heresy. He equivocated at the thought of the stake, recanting briefly. Then repudiating his weakness in the face of the fire, died fully acknowledging his life and its actions.
At the behest of a king Cranmer created a church.
Well, at least Cranmer laid out some critical elements that eventually would become that church. He retained the basic forms of Catholicism, but he infused it with much of the rationalism of the Reformation, and in the process created one of the masterworks of the English language, the Book of Common Prayer. Now, that church doesn't owe everything to him and that king, there would be various disruptions and going back and forth until a queen would enforce a settlement that would provide the solid structure allowing the church to go forth, and, I feel, create the openness that would allow for modern Anglicanism, as well as its inherent tensions. But, then, nothing lives forever.
One can get all Hegelian about his work finding a thesis, and then an antithesis, and then coming up with a grand synthesis. But, it probably would be wise to avoid such a simple, perhaps the right word is simplistic analysis. What Cranmer created was a mess. Sort of like he couldn't leave his wife for his mistress, or, perhaps it was the other way around.
But, out of the mess the good archbishop did create something with some staying power. At least once Elizabeth arrived, took what he did, polished it up a bit, and gave it the legs it needed to move on to the world stage. But without Cranmer there is no Elizabeth. It took both of them, each in their own good time.
And in this time, it's Archbishop Thomas Cranmer.
And, so, today, just a brief pause in all the hubbub to note Thomas Cranmer, one of those great and troubled minds and hearts of human history.
A toast to Thomas, one of those who loved too much.
He was a good man. But… And, oh, my, what hangs in that hesitation. One could say a whole religion.
I think of that lovely mess of a church he bequeathed to the world.
In the Zen tradition we speak of life and our way as one continuous mistake.
And with that in mind, I raise my glass to Thomas Cranmer and the Church of England…