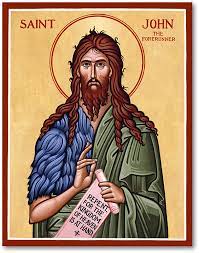 Today, the 24th of June, is Midsummer Day, the ancient European celebration of the summer. The solstice rolls around close to it, this year it was the 21st.
In the development of the Christian liturgical calendar this date becomes significant because it becomes the feast of John the Baptist. As the forerunner of Jesus, his feast is set exactly six months from that of Jesus. That would be today.
It sparks that little quip from scholars devoted to the study of a historic Jesus. The only things that can be known with passing certainty about Jesus is that he was born, he was baptized, and that he died, apparently horribly. The rest is reasoned conjecture from extremely flawed documentary evidence.
Part of the reason Jesus' baptism is pretty certain is that it shows the person who was Jesus was the disciple of another. In this case John the Baptist. There's a ton of work in the gospels and since to square that particular circle. And forerunner is how they settled the issue.
The other midsummer, the pagan holiday leaves some lovely echoes to this day. Midsummer's eve is celebrated in Northern Europe to this day featuring the maypole and what looks like fertility rites. Some other aspects of the ancient celebrations meld with the newer Christian observation of St John the Baptist, such as bonfires, and for a long time now, fireworks.
For me an interesting moment.
First, ancient celebrations of the summer. With that lots of hot blood. Lots of just plain joy in life. Then that complicated Christian story, become a round of life, a way of life, following the myth, and myth in absolutely the best sense of the word, of Jesus's life as a cycle. One that we can embrace as a spiritual path. And in this moment, the other side of the cycle, confronted with the other prophet. The one who is totally human. Who calls out injustice and mistreatment. That voice in the wilderness.
The one that lives in our dreams. The one that calls even God to account.
A moment to notice…