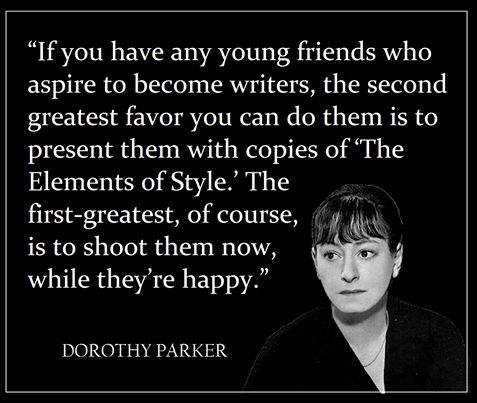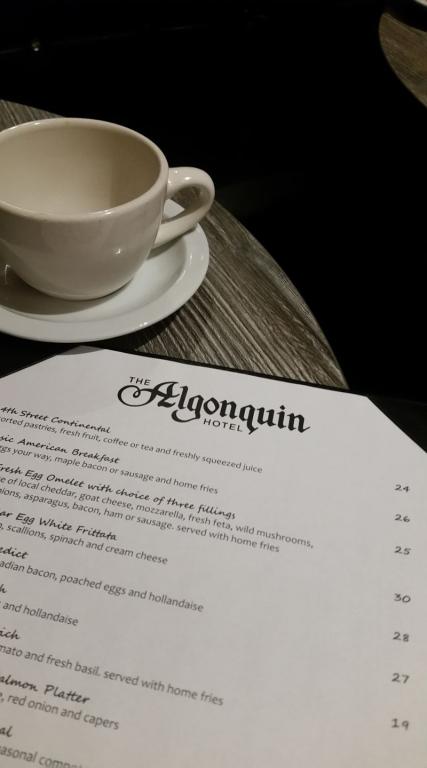 In 2017 Jan and I had the pleasure of spending a couple of days in Manhattan. We took advantage of proximity to have breakfast at the Algonquin, sitting not far from the round table itself, under a portrait of Dorothy Parker and many of the rest of the Vicious Circle. Cost more than I liked by a fair bit. But, we got to eat breakfast under a picture of Dorothy Parker. So, worth it as a one off. A sweet memory…
And, now I see it was today, fifty-five years ago on the 7th of June, in 1967 that Parker died. She was 73.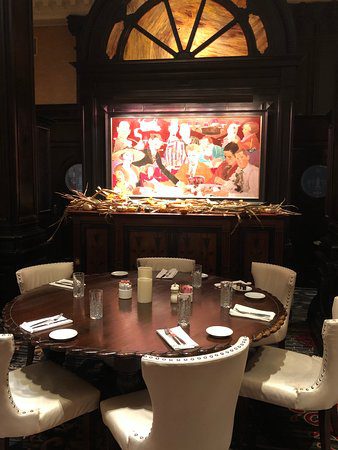 Dorothy Rothschild was born in Long Branch, New Jersey on the 22nd of August, 1893. Her mother died when she was four years old. Her step mother died when she was nine.
Her father died in 1913 and she made her way playing piano for a dance school.
The next year she sold her first poem to Vanity Fair, and not long after was hired as an editorial assistant for Vogue. This was the beginning of a life time as editor, poet, screen writer, journalist, and critic.
She met Edwin Pond Parker in 1917. The marriage lasted ten years before ending in divorce. She kept the name.
By 1918 Dorothy Parker had claimed a place as a central figure in New York City's intellectual and literary scene. With her intimate friends Robert Benchley and Robert Sherwood, they became the nucleus of the Algonquin Round Table.  Better known in some circles as the Vicious Circle. The literati of the Jazz age, as one wag put it.
And she was very much the center of it. Dorothy Parker was, as they say, a caustic wit. As she said of herself, "The first thing I do in the morning is brush my teeth and sharpen my tongue."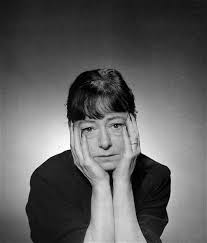 There was a second marriage. And a Hollywood sojourn writing screenplays. Blacklisted in the Red Scare. Eventually she returned to New York and it is as a New York intellectual and, well, caustic wit that she's generally remembered.
Her life wasn't easy. There were two suicide attempts. She drank way too much.
Dorothy Parker died of a heart attack, as noted above, today in 1967. While she'd not met him, she left her estate to Rev Dr Martin Luther King jr. No one claimed her ashes. They eventually wound their way to the NAACP, who placed them in a memorial garden at their national headquarters in Baltimore. They created a plaque:
"Here lie the ashes of Dorothy Parker (1893–1967) humorist, writer, critic. Defender of human and civil rights. For her epitaph she suggested, 'Excuse my dust'. This memorial garden is dedicated to her noble spirit which celebrated the oneness of humankind and to the bonds of everlasting friendship between black and Jewish people. Dedicated by the National Association for the Advancement of Colored People."
When their headquarters moved to Washington and after conversations with many stakeholders, the ashes were moved to a cemetery in the Bronx to a spot that had been purchased for her by her father many years before.
Dorothy Parker's influence and especially her observations, well, they continue on. For here, the smallest collection from her briefer lines.
"Beauty is only skin deep, but ugly goes clean to the bone."
"Heterosexuality is not normal, it's just common."
"What fresh hell is this?"
And a personal favorite: "I hate writing, I love having written."
Here's to you, Dorothy!