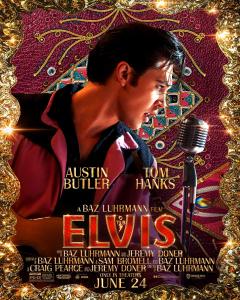 Yesterday Jan and I saw "Elvis."
The theater we were in had three people in the audience, and that included Jan and me. So, if you want to see it on the big screen, I would encourage you to consider maybe taking it in this weekend.
It has mixed reviews. Rotten Tomatoes gives it a 78% positive rating, while Metacritic gives it a 64 out of a 100. It kind of looks like you love it or you hate it.
Both his ex-wife Priscilla and his daughter Lisa Marie are lavish in their praise of the film. Jan and I, we loved it.
I was especially taken by the early parts that show his rooting in Mississippi black culture, religiously and musically. Echoes in the form of flashbacks pervade what happens later.
From my perspective it had two breakout performances.
Pretty much everyone says Austin Butler, who played Elvis, gave a tour de force performance. There's a physical resemblance, but more than that he captured some sense of the man, or at least some place between myth and reality that I found very satisfying.
The other breakout as far a I'm concerned was Tom Hanks portrayal of Col Tom Parker. Hanks gives us one of the best unreliable narrators I've watched. On screen we can watch him tell what happened and see what happened. Sometimes they're connected.
The director and co-writer Baz Luhrmann's choice of telling Elvis story from the perspective of someone who pretty much everyone in real life would agree was the villain in Elvis' real life, as several commentators note, turned what could have been a standard showbiz bio pic, into something else.
It totally worked for me. I would have liked more about the spiritual side of the man, and especially those influences from the black church. But, they didn't make the film for me and my interests. Although there are hints, again from the root time, if not how it all touched or didn't touch the troubled musician and star as he met a life of fame and excess…
I need to note of the criticisms of the film its Hanks under about a half ton of makeup and prosthetics, armed with the strangest of accents that is most often written about. (And, I was intrigued enough to do a little web surfing to learn more about the strange man Tom Hanks portrays as so strange…)
I was very moved by the straight forward acknowledgement of Elvis' debt to the black community. Actually that also triggered a bit of rummaging around the web to see what's what. I found this, and I recommend a read if you want what looks to be a fair minded assessment. (In some ways I wrote this review to offer that link…)
Maybe not a great film. But, I'm not sure. Maybe it was.
I very much encourage a viewing.