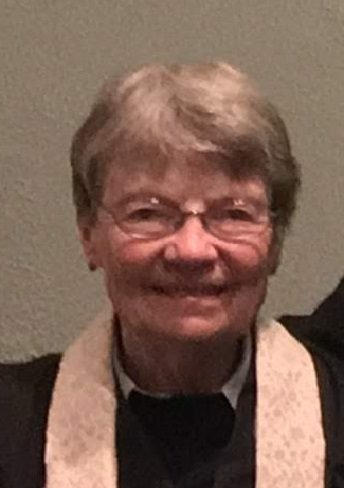 My friend Sensei Robert Ertman sent me this obituary of the Christian Zen teacher, Sensei Barbara Shoshin Craig. It felt important to share this to a larger readership. The rise of the Zen Christian community is one of the most interesting of the many interesting things that have arisen in the meeting of Zen Buddhism and Christianity starting in the twentieth century. 
JIF
Barbara Craig, RSM, a member of the Sisters of Mercy of the Americas died peacefully at home in Dallas, Pa., on Tuesday, Dec. 20, 2022.
Born in Flushing, N.Y., Sr. Barbara was the daughter of Merriman G. and Grace (Denley) Craig. She entered the Sisters of Mercy in 1951, professed her perpetual vows in 1956, and celebrated her 70th anniversary as a Sister of Mercy in 2020.
A graduate of College Misericordia (BA), Middlebury College, Vt. (MA), and Georgetown University, D.C. (Ph.D.), Sr. Barbara ministered in the Dioceses of Brooklyn, N.Y., and Scranton, Pa. She also served the Sisters of Mercy as Director of Formation and Director of Incorporation, a position that focused on the spiritual mentoring of new members.
Sr. Barbara was a faculty member at College Misericordia, Penn State (W-B Campus), and King's College. As a scholar of Spanish language and literature, Sr. Barbara brought her passion for social justice advocacy to the classroom and the marketplace. Her academic study at the University of Madrid where she concentrated on the work of Chilean poet-humanist and Noble Prize winner Gabriela Mistral eventually led her to membership on the Commission for Human Rights for Guatemala and Mexico. In more recent times, Sr. Barbara, along with Sr. Constance Kozel, was one of the founding members of the Peace and Justice Center of Wyoming Valley.
In addition to her lifelong outreach to migrants, Sr. Barbara served in Prison ministry at the State Correctional Institute in Dallas, Pa. Over the years, Sr. Barbara maintained ongoing contact with scores of prisoners, testifying at their parole and commutation hearings.
Everyone who encountered Sr. Barbara came away from her presence with an awareness of her deep spirituality— an interior luminosity rooted in her unwavering faith in the God of Mercy, and expressed as love lavishly poured out to others.
In the early 1990s, Sr. Barbara began her study of Zen and together with Sr. Stephanie Olek, RSM started a Zen group in Wilkes-Barre, Pa. Soon after, the group became known as the Flowing River Sanga, an interfaith gathering of people who support one another in the practice of Zen meditation and in a spiritual life grounded in the reality of the present moment. In 2002, Sr. Barbara was installed as a Zen teacher (Sensei) with the Dharma name of Shoshin (Beginner's Mind). She is the Dharma successor of Roshi Janet Richardson in the lineage of the White Plum Asanga.
In Sr. Barbara's long life as a Sister of Mercy and a Zen teacher, she was committed to the spiritual and corporal works of Mercy, and she journeyed with others on the Bodhisattva's path of love, compassion, and generosity. Sr. Barbara's "beginningless" and endless being is a light for all of us.
Sr. Barbara is survived by her sisters Carole Herrion, Yonkers New York, Anne Jessen, Port Washington, N.Y., nieces and nephews, and her dearest friend Sr. Constance Kozel.
The celebration of Sr. Barbara's life will take place on Thursday at 9:30 a.m. in the Chapel at Maple Hill Cemetery, 68 E. St. Mary's Road, Wilkes-Barre, Pa. Memorial contributions in Sr. Barbara's name may be made to the Sisters of Mercy, Dallas, Pa. 18612 or Flowing River Sanga, 20 Church Road, Wyoming, Pa. 18644. Condolences can be sent to: eblakecollins.com
The obituary was first published by Times Leader from Dec. 20 to Dec. 21, 2022.